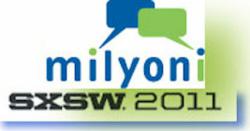 Conversational Commerce 2.0 brings greater convenience and control to the Social Merchandising team and compelling new experiences to the Facebook Fan
Pleasanton, CA (Vocus/PRWEB) February 10, 2011
Milyoni, Inc., the leader in social commerce for Facebook, announced today that Conversational Commerce™ 2.0 would be launched at the SXSW (South by Southwest) Interactive Conference in Austin, Texas on March 14th. Over 50 customers have used Conversational Commerce™ 1.0, with its innovative approach to selling products in social networks, to reach over 38 million fans since its launch in early 2010. Seven of the current stores have over 1 million fans including the NBA, Miami HEAT, Showtime's Dexter, UFC, and Discovery Channel.
Milyoni will kick-off the SXSW event by hosting "The Most Interesting Party" sponsored by Dos Equis at La Condesa Restaurant on Sunday, March 13 from 8 to 10 pm. At this event, Milyoni will announce The Most Interesting Person in Social Commerce in several categories. These are people that have had a significant impact on the use of Social Commerce in the past year. If you would like to submit a nomination, please visit http://www.milyoni.com/contact/mip for more information.
Monday through Thursday, March 14 through the 17th, Milyoni will be demoing Conversational Commerce™ 2.0 at the Interactive Conference in Booths 1223/1225. Milyoni will showcasing new functionality including the Merchant Dashboard that empowers the Social Merchandising team with convenient tools to engage fans, promote products and monitor interactions. In addition, Conversational Commerce 2.0 will deliver new social shopping experiences for fans in the Facebook News Feed and the Milyoni iFanStore.
To learn more about Milyoni, Conversational Commerce™, or the latest innovations in Social Merchandising and Social Shopping please visit us at http://www.milyoni.com.
About Milyoni
Milyoni, Inc., based in the San Francisco Bay Area, is the developer of a new Facebook app that marries social networking with ecommerce. With over 500 million users and the number one destination on the web, Facebook offers a new opportunity to extend customer loyalty and increase revenue. Milyoni has seized the opportunity by creating the first shopping cart that operates entirely within Facebook, from product selection to secure payment, and introduced the most innovative suite of social merchandising tools that help convert fans into customers. We call it Conversational Commerce™ and it delivers the best ROI in social media. Milyoni iFanStore and Social Merchandising tools reach over 38 million fans from several customers including the NBA, The Miami HEAT, UFC, Oklahoma University, HBO, Showtime and more. Visit us at milyoni.com.
###