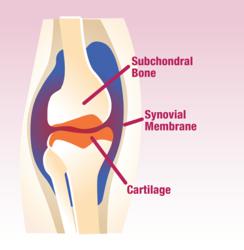 Acti-Joint®, is the only pharmaceutical-grade, 99.9% pure chondroitin sulfate available in the United States
Fargo, ND (Vocus/PRWEB) February 15, 2011
Joints are more than just cartilage. They are composed of three primary structures: subchondral bone, synovial fluid and cartilage. Each joint component needs specific nourishment to maintain health and full function. A new, comprehensive joint health supplement from Swanson Health Products, Acti-Joint®, is the only pharmaceutical-grade, 99.9% pure chondroitin sulfate available in the United States.
Acti-Joint features glucosamine, chondroitin and hyaluronic acid. This comprehensive supplement supports the primary joint structures and functions:

Subchondral bone: the bone beneath the cartilage is supported by glucosamine and chondroitin to maintain strength
Synovial fluid: this viscous liquid around the joint is composed primarily of hyaluronic acid and is supported by Hyal-Joint®, the most active oral form of hyaluronic acid
Cartilage: the connective tissue within the joints is vital to joint function and is supported by glucosamine and chondroitin to keep tissue strong and resilient
Because Acti-Joint features 99.9% pure chondroitin, the recommended dosage is lower. It works with only one-sixth of a standard serving of chondroitin. This pharmaceutical-grade supplement is made from high-quality ingredients brought together with a precision combination for complete joint support.
Swanson Health Products is an industry leader in bringing vitamins direct to consumers at the lowest prices possible. Swanson Health Products, headquartered in Fargo, ND, offers the highest quality vitamins, supplements and natural health care products and is Good Manufacturing Practices certified. Swanson Health Products goes a step beyond its competitors by offering powerful guarantees. All products are backed by a 100% Satisfaction, Money-Back Guarantee and Double the Difference Lowest Price Guarantee. For more information, please visit http://www.swansonvitamins.com.
# # #