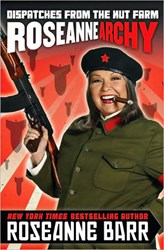 I am very moved and very touched to have been asked to discuss expanding feminine spiritual paradigms-those things that I wrote about in Roseannearchy
Yelm, Washington (PRWEB) March 24, 2011
Actor and New York Times best-selling author Roseanne Barr will be a special guest lecturer during the Primary Retreat at Ramtha's School of Enlightenment (RSE) in Yelm, WA, on Saturday, March 26 starting at 7 pm PT (10 pm ET). Ms. Barr will be discussing the spiritual aspects of her new book Roseannearchy: Dispatches from the Nut Farm during a special session that will also be broadcasted to students worldwide via a live Internet stream.
"I am very moved and very touched to have been asked to discuss expanding feminine spiritual paradigms-those things that I wrote about in Roseannearchy," Ms. Barr said.
Ms. Barr's speech will follow a lecture from RSE founder JZ Knight when she opens the primary retreat at 3 pm PT / 6 pm ET with a unique and insightful talk about how to prepare for Earth changes.
Both lectures are $50 each and open only to students. Since 1988, thousands have attended RSE and the school currently has more than 6,000 students as well as many more who have attended special retreats and seminars.
For more information, and to register, visit http://ramtha.tv/list/CatStyleListCode.ashx?code=cur.
JZ Knight is the unique channel of Ramtha and author of the best-selling autobiography, A State of Mind, My Story. Historians and religious experts who have studied her life's work call Ms. Knight the Great American Channel and recognize her as one of the most charismatic and compelling spiritual leaders of the modern age. Ms. Knight has appeared on national TV shows, including The Larry King Show (Five times) and The Merv Griffin Show, to offer spiritual insight and inspiration to thousands of people worldwide.
Ms. Knight is also a 2011 President Obama Presidential Partners member, a twice-nominated candidate for the coveted Templeton Prize, a keynote UN speaker and philanthropist who has supplied collage scholarships of nearly $2,000,000 for local high schools in the Seattle area.
###