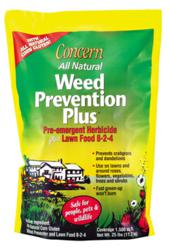 Weed Prevention Plus® stops weeds and dandelions before they start
Lititz, PA (Vocus/PRWEB) March 01, 2011
It's the springtime dilemma: Let dandelions and other weeds take over your yard and garden, or kill them with harmful chemicals, possibly putting your family and pets at risk. Today there is another option. Safer Brand (a leader in organic gardening solutions) has introduced corn-based Concern Weed Prevention Plus, an all-natural weed control solution that is not only up to 90% effective on dandelions and crabgrass in the very first year, but will not leave harmful residuals in your lawn.
Powered by corn gluten meal, Concern® Weed Prevention Plus® comes in a 25 pound bag providing you with 1500 sq. ft of natural weed prevention. Concern Weed Prevention Plus contains no synthetic ingredients and unlike traditional synthetic formulas, your children and pets can play on the lawn immediately after application. The product's corn-gluten meal formulation results in pellets that evenly distribute nutrients and kill weeds without burning grass or fragile plants.
"Weed Prevention Plus stops weeds and dandelions before they start," stated Justin Emig, Safer® Brand category development associate. "Consumers can feel confident using it in their flowerbeds, in landscaped areas around trees, shrubs and ornamentals, and even in vegetable gardens."
Weed Prevention Plus works by killing the roots of sprouting seeds before they take hold, ensuring the weed will never grow. For this reason, Safer Brand recommends waiting to apply Weed Prevention Plus until seeded lawn, gardens and flowers are firmly established. On mature lawns, Weed Prevention Plus should be applied early in the spring, around a month before the weeds begin to sprout. For most gardeners, blooming crocus and daffodils are a good indicator that it's time to apply Weed Prevention Plus.
Weed Prevention Plus is the latest in a long line of natural, organic pest and weed control solutions from Safer Brand. The wide variety of articles, advice and other resources provided at SaferBrand.com demonstrates the company's dedication to supporting organic gardening. For direct interaction with the experts at Safer Brand, consumers can even visit the Safer Brand Facebook page, where organic gardeners exchange ideas and gardening success stories, get tips, and view how-to videos to learn how to keep their gardens and plants healthy and weed-free year-round.
Now is the time to order Weed Prevention Plus, and to encourage consumers to do just that, Safer Brand is currently offering free ground shipping on orders over $45. Learn more, order Weed Prevention Plus and see the entire line of Safer Brand houseplant products at http://www.saferbrand.com.
For more information, please visit:
• Concern® Weed Prevention Plus®
• Importance of Being Organic
• Shop Safer Brand's Organic Products
• Follow us on Facebook
About Safer Brand
We are Safer® brand, Concern®, and Victor Poison-Free® - three strong brands recognized as world leaders in the organic pest control, organic plant disease control and organic gardening categories! We offer the broadest and deepest selection of quality organic bug control and plant disease control products at competitive prices. Our organic gardening products are targeted to meet the varying needs of you, the consumer! So, whether you are an experienced gardener or novice, there is a product to fit each and every situation.
Safer Brand, has been trusted by consumers since 1976 and is a division of the Woodstream Corporation located in Pennsylvania.
About Woodstream Corp:
Woodstream Corporation is a long-standing, privately held company and a leading manufacturer and marketer of quality-branded wild bird feeders, rodent control products, caring control products for pets and wildlife and organic solutions for lawns & gardens.
# # #