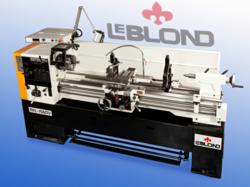 For those who had a Regal and for some reason sold it, the RKL is the best next thing.
Amelia,OH (Vocus/PRWEB) March 10, 2011
LeBlond, a supplier of OEM service parts and LeBlond lathes, is introducing a new 15" X 60" Inch/Metric lathe with an Electronic Variable Speed headstock. The RKL-1560V is similar in size to the 15" X 54" Regal, a popular model that is no longer available.
The LeBlond RKL has a heavy duty headstock spindle that is hardened, ground and dynamically balanced with support from three (3) point high grade precision bearings. The bed is made of meehanite casting and the bed ways are induction hardened and precision ground. The 2V bed design provides rigidity that assures accuracy and maximum stability for which LeBlond is known.
The Electronic Variable Speed headstock supplies high torque in both the low range (20 - 400 RPM) and the high (400 - 2500 RPM) range and has a 7.5 HP drive motor. The electronic control panel features a RPM LED display and is mounted on top of the headstock for ease of operation.
The RKL signature represents the quality, precision and care that were built into every LeBlond lathe. The lathe is equipped with "standard" equipment, is value priced and available in various sizes and models to meet all production requirements.
"Obviously, we'd love to be able to repair or remanufacture every LeBlond lathe that's out there because they'll last forever," says Jon Tallman, President of LeBlond Ltd. "But for those who had a Regal and for some reason sold it, the RKL is the best next thing," he continued.
For additional information call LeBlond at (888) 532-5663 or visit our website at leblondusa.com.
LeBlond is the only company in the world with OEM replacement parts for LeBlond and Standard Modern lathes KO Lee grinders, Johnson Presses and Deka Drills. LeBlond sells new machines, rebuilds equipment and offers "world class" accessories/tooling items. Whether your manufacturing needs require genuine LeBlond parts or quality industrial products, you can "one stop" shop at LeBlond.
###