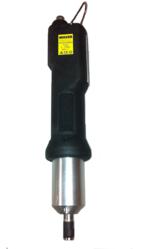 Chelmsford, MA (Vocus/PRWEB) March 10, 2011
KolverUSA is proud to introduce their Pluto Push to Start electric torque screwdrivers. These push-to-start drivers deliver accuracy, speed, and ergonomic improvements, for the ultimate in torque performance on critical joints.
Our new inline style torque drivers utilize the push-to-start feature to ensure an assembly operation is not started until proper bit to fastener engagement is achieved. Push to start offers improved ergonomics due to the fact no lever or trigger needs to be activated. Operators may simply orient the driver over the screw, insuring good bit to screw head contact. Then simply push the driver down, activating the driver, and fastening the screw to its pre-set torque level.
Worker productivity is also improved with the Pluto Series push-to-start drivers. Since no additional lever or trigger activation is required, production speeds are increased, leading to more throughputs on the assembly line, or work cell.
Pluto electric series drivers from KolverUSA also bring economic benefits, when compared to standard air operated tools. Studies have shown a 20: 1 cost savings using electric tools vs. air powered units, based upon initial costs, cost of compressing and drying air vs. electricity, repair costs, and rework of product due to faulty or low air supply lines.
Crafted for high production environments, the PLUTO Push to Start screwdrivers provide durability, power, speed and accuracy for a wide variety of assembly and manufacturing applications at an affordable price. For more information on the PLUTO Push to Start drivers, please contact your local KolverUSA sales representative.
###