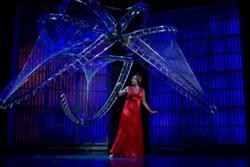 I'm always cheering when I see opera once again reasserting itself as the richest tapestry for innovative, live art
Boston, MA (Vocus/PRWEB) March 15, 2011
In this age of Facebook, cyberidentities and the Singularity, who doesn't wonder what will happen to the digital bits of their lives that they insert daily into the vast information network? Is it such a stretch to imagine that some day, people may be able to upload their very essence - their personalities and memories – and set in motion virtual machines that can act on their behalf, even after they are gone?
Such is the world imagined in composer Tod Machover's new opera Death and the Powers. The story revolves around Simon Powers, a rich, powerful businessman and inventor, who decides to perpetuate his existence beyond his physical death. Powers uses his vast resources to create The System, into which he uploads himself as his body expires. Simon is transformed into a pulsating presence that animates his environment. His library, furniture and house become a version of himself, and his family must figure out how to sustain a relationship with him in his new form. Eventually, they must decide whether to abandon their own organic existence and join him in his world of light, free of death and suffering.
Boston audiences will experience Death and the Powers in the historic Cutler Majestic Theater. The ornate Beaux Arts-style theater offers a striking contrast to the futuristic set, a spectacle of geometric robots, animatronic walls and a shape-shifting chandelier that descends like a giant metallic jellyfish to engulf the mezzo soprano in its embrace. What binds the past to the future is the music itself. Machover—called "America's most wired composer" by the Los Angeles Times—has created an inventive score filled with arching melodic lines, wry humor, richly nuanced textures and propulsive rhythms.
Death and the Powers sets itself apart from other operas with its groundbreaking performance technologies, developed by Machover's team at the MIT Media Lab. A new technique called Disembodied Performance employs sensors and analysis software to translate the conscious and unconscious sounds and gestures of baritone James Maddalena, who performs in the role of Simon Powers, into the character's thoughts, feelings and memories even after he is no longer physically on stage.
The production teems with innovative ideas. A chorus of "Operabots" narrates and reacts to the story. The house walls morph and move about on stage, and the musical Chandelier engages in a steamy duet with Simon's wife Evvy. The opera's ambisonic surround sound system represents a technological breakthrough in live amplified concert experiences. The opera's blog site has released a series of video previews of the music and text in advance to help audiences prepare to fully experience the live performances.
Death and the Powers' fusion of music and technology repositions opera as an art form that embraces innovation, says Marc Scorca, president and CEO of Opera America, a nonprofit that serves U.S. opera companies. "I'm always cheering when I see opera once again reasserting itself as the richest tapestry for innovative, live art," says Scorca.
For all the dazzling technology, the opera soars ultimately on the strength of its music. "Machover is a remarkable composer," writes the opera critic Andrew Porter . "[His] technological inventions in giving to sounds, through electronics, new sonorities, new eloquence, have been widely and amply acclaimed. But I'd like to stress what a good opera composer he is, bringing the 'traditional', necessary skills to a far from traditional work. Machover has a command of expressive vocal gesture. He sets words sensitively, with a feeling for the natural weight, stress and length of syllables rare today. Voices and instrumental/electronic sound are well balanced. The final duet is a moving modern addition to the great line of father-daughter exchanges: Boccanegra-Amelia, Rigoletto-Gilda, even Wotan- Brünnhilde."
The opera brings together a formidable creative team. Former U.S. Poet Laureate Robert Pinsky penned the libretto. Tony-nominee Diane Paulus (HAIR) directed the opera. Celebrated "punk ballerina" Karole Armitage choreographed the movement of actors and robots, and Hollywood creative director Alex McDowell, best known for such films as Minority Report and Charlie and the Chocolate Factory, designed the spectacular production. The Monaco-based Futurum Association commissioned the opera, which was developed by Machover and his team at the MIT Media Lab. The U.S. premiere performances are presented by the American Repertory Theater, MIT's FAST Arts Festival and Chicago Opera Theater, and have generated considerable media attention.
Death and the Powers will run in Boston on March 18, 20, 22 and 25 and will then travel to Chicago's Harris Theater for performances on April 2, 6, 8 and 10. The opera received its world premiere on September 24, 2010, in Monaco, with Prince Albert II of Monaco, the honorary patron of the opera, in attendance.
Boston Cutler Majestic Theater ticket site
Chicago Opera Theater ticket site
###