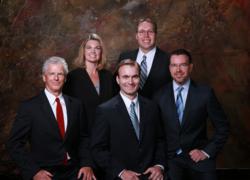 Educating clients and our community is the key to avoiding disputes or resolving disputes once they arise
Riverside, CA (Vocus/PRWEB) March 23, 2011
The Riverside law firm of Albertson & Davidson, LLP launches the first legal blog focusing on Trust, Will, Estate and Probate litigation. The site is geared towards Trust and Will issues, including lawsuits (called litigation) relating to Trust and Will issues.
"We created this blog to share our message, our knowledge, and our views on Trust and Will issues with the public," says named partner Stewart R. Albertson. Albertson and his partner, Keith A. Davidson, seem to have a good bit to share with the public about Trusts and Wills since they also teach Wills and Trusts at Chapman Law School in Orange County, California. "We are constantly discussing Will and Trust issues either with students or clients, so why not give our thoughts to the community as well" says Davidson.
According to Davidson, Trust and Will issues can be confusing: "This whole area is confusing because there is a mass of misinformation floating around about Trusts, Wills and estate planning in general. We hope to spread the word on Trust and Will issues through our blog and thereby empower people to make informed decisions that will resolve problems not increase them."
Albertson and Davidson each started practicing law by preparing Trusts and Wills for individuals. But it was the litigation side of Trusts and Wills that truly interested them and ultimately drew them together to start their firm in 2008.
"Our firm has grown by leaps and bounds from 2008 to today, and that is in a down economy" says Albertson. "This area of Trust and Will related lawsuits will continue to grow with the aging of the baby-boom generation and the new family dynamics that have emerged over the last 2 or 3 decades." Albertson is referring to things like second marriages, children from multiples marriages, or alternative lifestyles such as unmarried couples with kids. "Each scenario presents a different set of problems and when people don't plan for those problems, which many people do not, then it unfortunately leads to lawsuits" explains Albertson.
"Educating clients and our community is the key to avoiding disputes or resolving disputes once they arise" says Davidson. "And we are dedicated to educating as many people as we can on Trust and Will issues."
Albertson & Davidson, LLP are lawyers who believe in helping people resolve problems, thinking differently to resolve those problems and fighting for fairness and justice. They are experienced Trust, Estate and Probate litigators. Albertson & Davidson, LLP has two offices in Riverside County—Riverside and Temecula—and can be reached at (951) 686-5296, on the web at http://www.aldavlaw.com, and at their blog: http://www.CaliforniaTrustEstateandProbateLitigation.com.
###