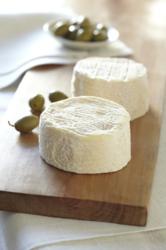 We wanted to make a cheese that was approachable for those consumers who didn't know they could love goat cheese.
(Vocus/PRWEB) March 17, 2011
Vermont Butter & Cheese Creamery announced today that their newest cheese Double Cream Cremont won Best of Class in the Surface mold ripened mixed milk cheese category at the US Championship Cheese competition held last week in Wisconsin. Cremont was one of 1,602 entries from 30 states in the competition. "This is the first time we have entered this cheese in a competition." says creamery co-founder Bob Reese. "We have had such a nice response to Cremont. Best of Class is a great validation,"says Reese.
The fifth cheese in their signature line of artisan cheeses, Cremont adds a new dimension with the addition of cows' milk and cream. "After making good crème fraiche and butter for a quarter century, we know that everyone loves cream. Why not blend it into a traditional French-style goat cheese for something irresistible?" says creamery co-founder, Allison Hooper.
Cremont is a soft cheese with a geotricum rind. It has the texture and citrus tang of a soft goat cheese with the rich decadence of crème fraiche. "We wanted to make a cheese that was approachable for cheese consumers who didn't know they could love a goat cheese and a cheese with a wrinkled and edible rind," says Hooper. This is a great cheese to introduce to customers who are looking for American artisan cheese. As a fresh cheese, Cremont is mild and creamy. As it ages, the rind is aromatic while the interior of the cheese gets softer. It is delicious at all stages of maturity; complex yet never too strong. The whimsical name combines Cream and Vermont- a propos to the creamery's 27 years of cheesemaking.
In their twenty-sixth year of business, Vermont Butter and Cheese Creamery, located in Websterville, VT is a leading American Artisan creamery. Crafting innovative, all-natural fresh and aged goat cheeses, crème fraiche, mascarpone, and European-style cultured butter, the creamery supports a network of more than 20 goat dairy farms, providing milk that meets the highest standards of purity, and is a proud contributor to the health of local agriculture. To learn more about Vermont Butter & Cheese Creamery visit http://www.vermontcreamery.com.
# # #