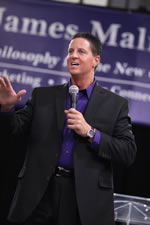 (PRWEB) March 18, 2011
Motivational Speaker James Malinchak joins the cast of ABC's Secret Millionaire this Sunday. Posing as part of a documentary film crew, Malinchak is introduced to several groups in a small town, much like the one he grew up in, and will donate money to their causes after the week is over.
As a professional speaker, Malinchak is no stranger to helping people. His book "Chicken Soup For The College Soul" has received accolades, and his business as a motivational speaker has never been more busy. He describes his time on the show as, "...a tremendous opportunity to help other people and motivate people to help others. You don't need to be a millionaire to get involved in your community. I think this could start a movement."
Malinchak is quick to point out that he hasn't forgotten his roots. Hailing from a small steel town in Pennsylvania, James was a star basketball player in high school, taking his team all the way to the 1988 state championships. Today, one of Malinchak's favorite causes is helping kids find confidence to achieve their own dreams and girls.
Since 2001, Malinchak's strong passion for serving others has impacted hundreds of thousands by teaching his unique personal and business strategies through his corporate and college speaking, public seminars, private coaching, books and home study courses. Malinchak has dedicated his life to helping others "Achieve a Better, Richer Business and Life!"™
Be sure to tune in to ABC's Secret Millionaire this Sunday at 8/7c. For more about the experience, check out James Malinchak's blog about Secret Millionaire.
# # #