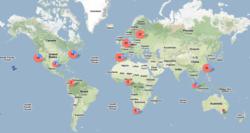 New ways to supply and manage venture finance in Africa, will unlock the potential of millions of entrepreneurs to provide solutions to the continent's 1 billion people
Cape Town, South Africa (Vocus/PRWEB) March 23, 2011
The City of Cape Town jointly with Living Labs Global announced today the results of its first round evaluation of 245 entries from 127 cities in 30 countries, which was carried out by an international expert jury as part of the Living Labs Global Award 2011.
Shortlisted solutions are now invited to provide in-depth supporting information, leading to the announcement of a winner at the Stockholm Summit for Service Innovation in Cities on May 12, 2011. The winner will be invited to carry out a full-scale pilot in the City of Cape Town, to evaluate the impact of the solution and lead to broader implementations.
SHORTLIST
Involving business angels and mentors in Cape Town
VC4Africa, connecting entrepreneurs and investors
Energy In Common
MYC4: Eradicate Poverty Through Business
Venture Capital Cultivator Fund
Entries were received in response to a call for pilots to deliver solutions that exploit new technologies and funding systems such as crowdfunding, micro-credits, community finance, social networks and open data systems to provide entirely new ways of connecting investors and entrepreneurs that are more suitable to Africa's entrepreneurs than traditional venture capital funds. Successful solutions will help African entrepreneurs become the employers of tomorrow, develop new technologies, provide real solutions to consumers and give investors healthy returns.
"New ways to supply and manage venture finance in Africa, combining some of the existing and proven best practices with new solutions that may have emerged in the developed or developing world will unlock the potential of millions of entrepreneurs to provide solutions to the continent's 1 billion people. As an example, crowdfunding, micro-lending and community fund-raising are all powered by new technologies and financial management. Where in developed countries you may have two investors, African entrepreneurs may find a hundred willing micro-investors, in their family, community or beyond," says Mansoor Mohamed, Chief Executive of Cape Town's Economic-, Social Development and Tourism Agency.
Why Cape Town?
With the well-established institutional frameworks of South-Africa and Cape Town, the city is an ideal piloting area for such new mechanisms by providing stable and proven legal institutions, committed government agencies, a high density of entrepreneurial activity and potential investors of all types.
About the Living Labs Global Award 2011
Living Labs Global, a non-profit association to promote digital service innovation in cities, announces a joint Award with the Cities of Barcelona, Cape Town, Eindhoven, Lagos, San Francisco, Sant Cugat, Stockholm, and Taipei to choose the companies and organizations that have developed solutions that add high value to users in cities around the world. The Award is organised in partnership with Oracle and Farglory, with shortlists being announced on March 22nd and the Winners presented at a Summit and Award Ceremony in Stockholm on May 12, 2011.
###