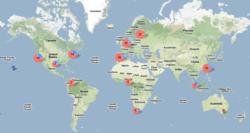 We have nominated five high impact solutions to lead the way of our next generation open government agenda
San Francisco, CA (Vocus/PRWEB) March 23, 2011
Today the City of San Francisco jointly with Living Labs Global announced the results of its first round evaluation of 245 entries from 127 cities in 30 countries, which was carried out by an international expert jury as part of the Living Labs Global Award 2011.
Shortlisted solutions are now invited to provide in-depth supporting information, leading to the announcement of a winner at the Stockholm Summit for Service Innovation in Cities on May 12, 2011. The winner will be invited to carry out a full-scale pilot in the City of San Francisco, to evaluate the impact of the solution and lead to broader implementations.
SHORTLIST
City Direct
ZonabilitySF
Crowdmap
Open Data as a Platform for Citizen Service Delivery
Healthy City
"We have nominated five high impact solutions to lead the way for our next generation open government agenda" says John Walton, acting CIO of the City of San Francisco
Entries were received in response to a call for pilots to deliver new solutions that make best use of open infrastructures and data and combine these with other technical and service innovations to deliver our Next Generation of Government, to create better public services with decreasing budgets, involving more stakeholders and citizens in the process.
Why San Francisco?
The City's Open Government initiative is all about creating through collaboration a more transparent and accountable government, using innovative measures and tools. By unlocking the internal value of the City's data, applications, and infrastructure we intend to "open up" government, so others – vendor partners and citizens – can effectively crowd-source ideas and solutions. San Francisco is a leader in technology initiatives among US cities and is a driver of the G7 group of major US cities.
About the Living Labs Global Award 2011
Living Labs Global, a non-profit association to promote digital service innovation in cities, announces a joint Award with the Cities of Barcelona, Cape Town, Eindhoven, Lagos, San Francisco, Sant Cugat, Stockholm, and Taipei to choose the companies and organizations that have developed solutions that add high value to users in cities around the world. The Award is organised in partnership with Oracle and Farglory, with shortlists being announced on March 21st and the Winners presented at a Summit and Award Ceremony in Stockholm on May 12, 2011.
###