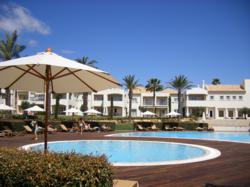 (Vocus/PRWEB) 29 March 2011
Luxury Algarve resort Vale d'Oliveiras is now providing overseas homebuyers with the freedom to choose whole or fractional ownership of their elegantly appointed properties.
The concept is joint-ownership of a freehold property located in a luxurious Western Algarve setting, whereby each person owns a fraction of an apartment. These fractions are tangible assets, allowing owners the possibility of making a profit on their original investment.
Some holiday home investors want to own a property outright and have their property be solely for their use whenever they wish. Others are happy to pay a much smaller price to share a property with several other buyers. Vale d'Oliveiras is now catering to both preferences so that investors have the freedom to choose how they buy their second home.
When it comes to owning a holiday home, both options have their advantages. With whole ownership the buyer has the advantage of being able to escape to their holiday home in Portugal whenever the urge calls them, without having to worry about whether someone else is already using it. They have the choice to use it for large periods of the year, or a few weeks, whichever suits their fancy. Also, owners are able to rent their property out when they are not using it, through the resort management. This means that although this option requires a larger initial investment than fractional ownership, there is a greater possibility for earning a rental income from it.
Those who choose whole ownership also have the opportunity to become members of Interval International, which means that they are able to trade in weeks at Vale d'Oliveiras for holidays in other five star resorts around the world.
However, whole ownership isn't the ideal situation for all holiday home investors, and some people find that fractional ownership is better suited to their needs. Fractional ownership is when ownership of the property is split between several buyers. Each fractional home at Vale d'Oliveiras is divided into quarters and purchased by four different buyers. The four owners are then able to use the property for three months each per year. This is organized through a schedule which rotates so that every month of the year is available to each owner over a cycle of four years.
The idea of fractional ownership came about in the early 1990s in the Rocky Mountains, as a result of homeowners realizing that they were only using their second homes for a few weeks out of the year and therefore it didn't make sense to own them fully. They began joining together with family and friends to share ownership of holiday properties. These days, fractional ownership doesn't necessarily involve friends and family, and the fractional owners of a Vale d'Oliveiras property might not even know each other. However, most get to know each other through the experience of owning a Vale d'Oliveiras property and eventually become friends!
The advantage of buying a Vale d'Oliveiras holiday property on the fractional ownership option is that buyers split the running and maintenance costs as well as having to pay a much cheaper initial investment. This can potentially make it possible for a holiday home buyer to enjoy a property that they otherwise could not afford.
Another advantage of fractional ownership is the potential for the property to appreciate over time. There are very few fractional resorts, especially ones as luxurious as Vale d'Oliveiras. This means that there will be a substantial demand and therefore appreciation on the property, unlike with a timeshare which will often depreciate. Because each investor owns their quarter of the property, they will benefit from any increase in property value if they choose to sell it again.
The properties at Vale d'Oliveiras are absolutely gorgeous, and whether wholly or fractionally owned, they make an absolutely decadent retreat for experiencing true relaxation.
For more information on Vale d'Oliveiras Resort, please email
Vale d'Oliveiras
International Sales Office Savills Select Resorts
Telephone: +44 (0)1202 765011
Email: Select(at)Savills(dot)com
# # #