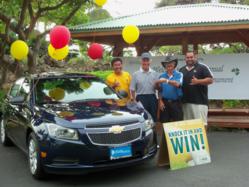 Los Angeles, CA (Vocus/PRWEB) March 28, 2011
The 9th Annual Luck of the Irish Golf Tournament was March 14 at the Jack Nicklaus designed golf course at Hokuli'a Hawaii Island to benefit the United Way. Ken Schork, President of El Monte RV hit a hole in one on # 13 and won a Chevrolet, courtesy of Deluze Chevrolet.
"I guess the luck of the Irish really was with me," said Schork, "My mother is originally from Ireland."
Schork made the hole in one with a driver on a 205 yard par 3 hole. It was the first time in tournament history and his second hole played of the day.
According to Carlos Concha of Hole In One International, the average golf tournament has between 72 and 80 golfers. Hole in One international insures about 15,000 holes per year and sees less than 50 hole in ones with a prize greater than $25,000.
The tournament benefits the United Way and is sponsored by several local business in Hawaii including: Title Sponsor Hokuli'a Development, Corporate Sponsor Oceanic Time Warner Cable and other local business partners.
About El Monte RV
Headquartered in Los Angeles, El Monte RV is one of America's leading motorhome and RV rental and sales companies, catering to both international and domestic travelers. The company has experienced rapid growth throughout the United States, thanks to its reputation for exceptional customer service. El Monte RV is the only nationwide motorhome rental company to offer the larger Class A luxury vehicles for rent. For more information about El Monte RV, contact 800-337-2141 or visit our website El Monte RV Rentals.
###