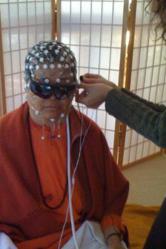 Three in four Americans believe in at least one paranormal phenomenon, with 41 percent citing extrasensory perception (ESP) specifically.
Petaluma, CA (PRWEB) March 29, 2011
With an increasing appetite for consciousness science and the digital means to attain it, the public is growing more open-minded about ideas like telepathy, extra sensory perception, and precognition, according to the Institute of Noetic Sciences (IONS). IONS will launch next month a teleseminar series that explores scientific evidence that supports psychic abilities, which a majority of people say they have experienced but lack the public support to discuss.
Dr. Dean Radin, IONS' senior scientist and one of the world's most acclaimed parapsychologists, will host many of the teleseminars in this series. The series also will feature spiritual scientist Deepak Chopra, futurist Stephan Swartz, and transpersonal psychology pioneer Frances Vaugn. Other speakers include Amit Goswami, Stan Groff, Azim Khamisa Christopher deQuincey, Susan Blackmore, William Bengston, Andrew Newberg, and Howard Hall.
Free access to the teleseminars is available to the public the first Wednesday of every month, beginning April 6.
The eight-part "Mysteries of Consciousness" series, running from April 6 to June 29, 2011, is available for people who register for an IONS Partner level membership of $120 a year or $10 per month. Partners receive access to all 40 teleseminars that IONS hosts throughout the year, offering lecture, question-and-answer sessions, and discussion with leading scientists, academics, and experts in consciousness research, spirituality, health, education, and ecology. Visit Noetic.Org for more information on supporting membership.
Teleseminars are recorded and available to all users registered on the Noetic.Org website (all members including free membership). These users also find a supportive community is IONS discussion forum where participants can direct follow-up questions and conversation, and a host of online activities in the Psi Arcade. IONS extensive online library and keyword search tool provides open access to its 38-years of research and educational resources.
Exploring Psi
About three in four Americans believe in at least one paranormal phenomenon, with 41 percent citing extrasensory perception (ESP) specifically, according to a 2005 Gallup survey. Fifty five percent of those surveyed also believe in that the healing powers of the mind have been demonstrated empirically. Yet taboos in science still discourage these people from discussing their experiences in public and prevent conventional scientists from sharing their psi research, according to Dr. Radin. As an institution openly researching extended human capacities and publishing in peer-reviewed journals, IONS has taken a lead in bucking convention in an effort to effect far-reaching change.
The Mysteries of Consciousness teleseminars series also will cover new research that explains consciousness as energy, provides evidence in energy healing, and supports theories of spiritual intelligence in the human experience. Other topics include neurotheology's moral and theological questions and new contexts for Sufism and rapid wound healing.
In one May telesminar, Dr. Radin, who has been acclaimed for fusing the scientific mindset with the lateral thinking of an artist, will be joined by his colleague in remote viewing research, futurist Stephen Schwartz. They will discuss research into the extraordinary experiences known as moments of genius, religious epiphany, and psychic insight. Schwartz is a principal researcher studying the use of Remote Viewing in archaeology.
IONS president and CEO Dr. Marilyn Schlitz and Director of Research Cassandra Vieten also will host teleseminar sessions. Dr. Schlitz, along with Dr. Radin, is part of the small group of scientists who began groundbreaking work back in the 1980s to develop scientific methods to perfect standards-based analytical models of consciousness research. An author, speaker, educator and Twitter presence advocating for applications of consciousness science in health, education, and social good, Dr. Schlitz will conduct the June 8th teleseminar with Deepak Chopra.
About the Institute of Noetic Sciences (IONS)
The Institute of Noetic Sciences, founded in 1973 by Apollo 14 astronaut Edgar Mitchell, is a 501(c)(3) nonprofit research, education, and membership organization that supports individual and collective transformation through consciousness research, educational outreach, and engaging a global learning community in the realization of our human potential. Funded by members, donors, and grants, IONS' primary program areas are consciousness and healing, extended human capacities, and emerging worldviews. For information on membership, research, online journals, the EarthRise conference center, and IONS' international conference, go to Noetic.Org.
###