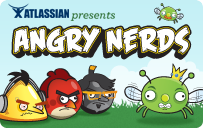 It's a gaming experience like no other.
San Francisco, CA (Vocus/PRWEB) March 31, 2011
Atlassian today announced the release of Angry Nerds, its first mobile game for Apple iPhone, iPad, iPod and Android devices.
Atlassian, makers of software development and collaboration tools for nerds, stunned the gaming world with a tour-de-force in mobile gaming and action-packed game play, stunning character development and a physics engine that literally would make Newton weep. The game, available just in time for Easter Holiday sales, features six original nerds as they fly, explode, jump and code away nasty software bugs.
"Okay, it's no secret I like Angry Birds. And Atlassian and Rovio did both take an investment from Accel," said Mike Cannon-Brookes, Atlassian CEO and co-founder. "But any similarities between the Birds and our Nerds is completely coincidental."
The game has been called "possibly stunning" and "a game only a mother could love" by reviewers at the venerable nerd games review site nerdgames.com, where it received five out of five noobs.
"In the history of nerd games, only three stand out: Nerds with Friends, Nerds versus Zombies, and Atlassian's Angry Nerds," said Jim Smith, lead reviewer at nerdgames.com. "Oh wait, there are only three."
In addition to the game, Angry Nerds fans can purchase merchandise from the Atlassian store including plushie toys and Angry Nerds t-shirts. For more information, downloads, and merchandise, visit http://www.atlassian.com/angrynerds.
About Atlassian
Atlassian provides software development and collaboration tools to help nerds conceive, plan, build and launch great products. More than 22,000 organisations with all types of nerds use Atlassian's issue tracking, collaboration and software development tools to work smarter and deliver quality results on time. Learn more at http://atlassian.com.
###