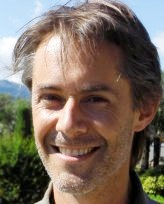 For those who want to believe there's a devil, this book will lovingly help you discover who the real devil is," states Neale Donald Walsch, author, Conversations with God.
Ansbach, Germany, Zurich, Switzerland, March 29, 2011 (Vocus/PRWEB) March 30, 2011
A rare combination of scientist and seeker, Dr. Yves Patak explores how religion, cultural programming and fear can hold us hostage in an emotional torture chamber of our own creation, in his new book Dialogue with the Devil. Over the centuries a mythical figure often referred to as the Devil, Lucifer or the Prince of Darkness has been blamed for the misery in our lives and on our planet. Is he the perpetrator or merely a convenient scapegoat? What if we were to confront another inconvenient possibility: that every man is not only the architect of his own fortune, but also of his own suffering?
Dialogue with the Devil takes readers on a riveting journey that will shake the very foundations of many a belief system and forever change the way we look at the Devil and the role he plays in our lives. Anyone who wishes to explore the real cause of illness, unhappiness or despair, will find this an extraordinary book. It illustrates how we often create the conditions that eventually cause physical and emotional "dis-ease," and how we can identify and break free from self-destructive behaviors.
Dialogue with the Devil reveals the true purpose of life and what we mortals are here to learn. Throughout the book, the protagonist's discourse with the Devil addresses questions about love, health, relationships, sex, work, money and other universal subjects. It encourages readers to examine themselves first, rather than placing blame on others for the condition of their lives.
"For those who want to believe there's a devil, this book will lovingly help you discover who the real devil is," states Neale Donald Walsch, author of the runaway best selling Conversations with God series.
About the Author:
Yves Etienne Patak, M.D., works as a general practitioner, acupuncturist and hypnosis therapist in Zurich, Switzerland. During his medical studies Yves spent three months in Jamaica, where he experienced uncanny phenomena, which he partly incorporated into his first novel The Healer and his current project, a soon to be released thriller called The Screener. Various stays in the Far East, India, Sri Lanka, and the West Indies acquainted him with diverse cultures, rituals, tribal medicine, and superstition. These experiences have strongly inspired Yves both in his work as a physician and a writer. In both his practice and his seminars he has focused on identifying the root causes of his patient's disease, rather than merely medicating the symptoms.
For interviews or review copies contact:
Annemarie Osborne, Annemarie.Osborne(at)gmail(dot)com,
DIALOGUE WITH THE DEVIL, Enlightenment for the Unwilling, by Yves E. Patak M.D. is published by Rainbow Ridge Books and distributed by Square One Publishers. Retail $17.95, 156 pages, 5 x 8 ½ quality paperback, spiritual and metaphysical ISBN 978-0-9844955-2-8
Available at Amazon.com in paperback, Kindle and eReader versions as well as at booksellers.
# # #