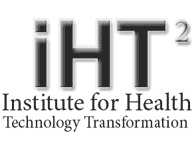 "The fundamental thing that is going to carry us way beyond 2015 is that we're changing the way we're going to assess ourselves, which in turn will affect the way we're going to pay ourselves."
San Francisco, CA (Vocus/PRWEB) March 30, 2011
In his keynote address to the Institute for Health Technology Transformation's Health IT Summit in San Francisco on March 22, industry luminary Paul Tang, MD, MS, outlined for attendees a path from Stage One to Stage Two requirements for providers and hospitals to make meaningful use of electronic health records (EHRs) under still-developing federal policy.
Dr. Tang is vice president and chief innovation/technology officer at the Palo Alto Medical Foundation, and also serves as vice chair of the Health Information Technology Policy Committee (HITPC) and chair of its Meaningful Use Workgroup. HITPC advises the Department of Health & Human Services on matters related to health information technology. The Meaningful Use Workgroup and HITPC have established categories under which a provider or hospital would qualify as a meaningful user.
According to Dr. Tang, the timeline for qualifying for Medicare/Medicaid payments authorized by the HITECH portion of the federal stimulus package passed in 2009 brings into play an incentive window that closes in 2015. "On the ambulatory side, you get maximum dollars if you participate in Stage One in 2011 or 2012," explained Dr. Tang. "If you don't pass Stage One by 2014, you're not going to get any incentives.
Another crucial aspect of the timeline is that penalties begin in 2015 for those who have not achieved meaningful use of a certified EHR. And the stake for receiving penalties can go on beyond 2015. "The penalty can go up to 5 percent in the ambulatory world in terms of Medicare billings," Dr. Tang noted.
Since there are decreasing incentives available in 2013 and 2014, and penalties start in 2015, policy-makers have moved as much of the incentive structure as possible into Stages One and Two. Stage Three incentives amount to only $2,000 to $4,000 on the provider side. "This is part of what is forcing us to be aggressive with the timeline," Dr. Tang said.
The public comment period for the proposed Stage Two will end on March 25. The Office of the National Coordinator for Health IT (ONC) is still in the process of processing and summarizing comments. Dr. Tang commented that the comments thus far reflect a "pushback" on the aggressiveness of the timeline.
"We want to move the country as fast as possible with the available funds -- which dry up at a certain time -- and make sure we have the tools to deal with health reform and accountable care organizations," he continued. "We're working to get vendors to produce the software and for us to prepare our clinical staff. We're exploring some options to try to provide some relief to the time issue, both for the vendor development side and for the providers on the implementation side.
The Meaningful Use Workgroup will meet April 5 to discuss draft recommendations for Stage Two criteria, along with the timing considerations. The group will also discuss how specialists can get involved in the incentive program. However, Dr. Tang noted, "That's a gnarly problem because there aren't a whole lot of quality measures for specialties; there are far more for primary care."
Final recommendations will be presented to HITPC by June, and then on to ONC and the Centers for Medicare & Medicaid Services (CMS) for their consideration.
"They will take that input -- and they used it heavily in Stage One -- and then produce their Notice of Proposed Rule Making by the end of this calendar year," said Dr. Tang. "Once they get feedback from the NPRM, they will produce the final rule, probably in mid-2012."
Note that the incentive program in theory starts in 2013. "We're trying to figure out how to deal with that," Dr. Tang continued. "I would argue that [this process] has been a positive force. We know that we're facing a dramatic change in our delivery and payment systems, but I think we're all glad that we have some of this work underway. This can almost be an excuse for moving everybody forward in a uniform way, and sometimes you need that."
He added, "The fundamental thing that is going to carry us way beyond 2015 is that we're changing the way we're going to assess ourselves, which in turn will affect the way we're going to pay ourselves. CMS and all the payers are looking at this as a way to get out of the paper transaction model. We all want that, too, but we want a fair shake at measuring things that are important to us. I would encourage everyone to look at the quality measures, because they are the ticket to the future."
Dr. Tang concluded, "When we share data and knowledge with patients and their families, we're going to be on equal turf in advancing health for individuals and health for the community."
By Frank Irving on behalf of iHT2
About the Institute for Health Technology Transformation:
The Institute for Health Technology Transformation is the leading organization committed to bringing together private and public sector leaders fostering the growth and effective use of technology across the healthcare industry. Through collaborative efforts the Institute provides programs that drive innovation, educate, and provide a critical understanding of how technology applications, solutions and devices can improve the quality, safety and efficiency of healthcare. http://www.ihealthtran.com
###