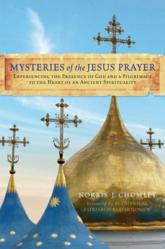 "Norris Chumley traverses a spiritual landscape unfamiliar to most Westerners. . . . Take this book and read. Even better, read this book and accept its invitation to pray." —Diana Butler Bass, author of A People's History of Christianity
San Francisco, CA (Vocus/PRWEB) March 31, 2011
These twelve simple words comprise the Jesus Prayer, a well-spring of Christian tradition believed to have been practiced for the first time by the Apostles more than 2000 years ago. While the prayer is a cornerstone of spiritual life within monasteries and convents of eastern Christianity, it remains largely unknown in the west. That is, until now. In his new book, MYSTERIES OF THE JESUS PRAYER: Experiencing the Presence of God and a Pilgrimage to the Heart of an Ancient Spirituality (HarperOne; April 2011; Hardcover; $24.99; ISBN 9780061874178), Emmy award-winning documentarian Norris Chumley pulls back the curtain to reveal the history, practices, and transformative power of the Jesus Prayer.
From the Egyptian desert to the top of Mount Sinai, from the convents in Transylvania to the monastery on Greece's Mount Athos, Chumley travelled the globe in search of modern-day practitioners of Christianity's first mythical tradition. Readers accompany Chumley on this journey to the mystical sites of the early Christian world to meet the holy men and women of the Orthodox Church who have built their lives of reflection, humility, and constant connection to God around the Jesus Prayer.
This beautifully illustrated volume, a companion to the forthcoming eponymous documentary film, imparts the valuable lessons Chumley learned on his journey; how to move through the stages of the Jesus Prayer, the enduring value of silence, and the lasting spiritual rewards of regular practice of this simple prayer.
Considered a Christian "mantra," the prayer is a perfect meditation for those of us challenged to find peace and fulfillment in our busy lives. Whether the in long version, the short form, or its multiple variations, the prayer's abiding wisdom is central to a spiritual life.
Norris J. Chumley, Ph.D., is an Emmy Award-winning executive producer, director, and author whose work has been featured on PBS, NBC, ABC, A&E, USA, Showtime, The Movie Channel, HBO, and WNET/13. Chumley holds a Ph.D. in Theology and the Arts from Union Theological Seminary in New York City. He is a featured daily columnist for Beliefnet.com, and the Executive Producer and Director of Media for the Columbia University Institute for Religion, Culture and Public Life. For more information please visit http://www.JesusPrayerMovie.com.
###