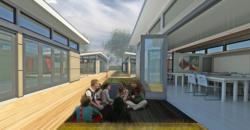 Firm of the Year Award.
Atlanta, GA and Littleton, MA (PRWEB) April 12, 2011
Perkins+Will, an integrated design firm serving clients from twenty-three offices around the world, is teaming with Triumph Modular Incorporated, the Northeast's premier provider of high-quality relocatable and permanent modular buildings. Their intent is to offer Sprout Space™, a modular classroom designed to the standards of Collaborative for High Performance Schools (CHPS) and LEED®. Designed by Perkins+Will, Sprout Space will, under the teaming relationship, be factory-fabricated and installed by Triumph Modular.
Global architecture firm Perkins+Will partnered with DeKalb County Schools to win an international award in the 2009 Open Architecture Challenge: Best Re-locatable Classroom design competition, which was hosted by Architecture for Humanity. This worldwide initiative invited the architecture, design and engineering communities to collaborate directly with students and teachers to rethink the classroom of the future. Designers entering the competition were given a simple mandate: collaborate with real students in real schools in their community to develop real solutions. The winning design was the genesis for Sprout Space.
In 2004, Triumph Modular launched a campaign to be the first modular dealer in the country to produce a LEED® level, green portable classroom. A modular classroom for The Carroll School in Lincoln, Massachusetts has been awarded multiple awards, including first place in the Montgomery County Public Schools' 2006 Design Competition. Since then, Triumph has collaborated on numerous green modular classrooms, including a 13,000 SF early childcare center in North Andover, Massachusetts; a 6,000 SF addition at the Oak Hill Middle School in Newton, Massachusetts; and a 5,800 SF child care center at Harvard University which recently won design awards from the Boston Society of Architects (BSA), the American Institute of Architects/San Francisco and the Modular Building Institute (MBI).
The need for configurable solutions
Schools are currently facing a lot of challenges, including budget shortfalls, outdated facilities, and population fluctuations. These difficulties sometimes force them into less than optimal building solutions. The basic requirements for a classroom include: natural daylight, good indoor air quality, adequate space, proper temperature control, and good acoustics. This challenge inspired Perkins+Will, a leader in education design, to give schools an alternative through their award winning design of Sprout Space.
Sprout Space Modular Classrooms
The goal of any classroom is to have inspired teachers instructing engaged students who are learning in a healthy and productive environment. Sprout Space is the first high performance modular classroom designed by school design experts, and it incorporates unique features including:

Healthy Learning Environments: Sprout Space was designed with children's health and various learning styles in mind. Built from low-emitting materials, these classrooms meet the highest indoor air quality standards. A healthy learning environment equals fewer sick days, higher test scores, and happier students.
Flexible Learning Environments: Sprout Space is very flexible. It is well-suited for various teaching styles, seating configurations, and outdoor learning opportunities. Each classroom opens up to the outdoors through large bi-fold doors. This encourages experiential learning and complements and a variety of teaching methods.
Sustainable Learning Environments: Our design incorporates ample natural daylight, which has been proven to increase test scores and retention rates with the added benefit of significantly lower utility costs. Numerous design features such as integrated rainwater collection, overhanging eaves, and sustainable materials make Sprout Space an excellent example of passive and active green building strategies. The materials that we use include FSC-certified wood, high-reflective roofing, and bio-based insulation and flooring.
Delivered
Sprout Spaces are pre-engineered, built in a factory and delivered on site. Constructing the buildings in a controlled environment has many advantages over building them on site such as: reducing cost, reducing construction time by up to 50%, less construction waste, a longer building life-cycle, and the elimination of mold growth during construction.
About Perkins+Will
Established in 1935, Perkins+Will is an integrated design firm serving clients from twenty-three offices around the world. The firm practices architecture, interiors, branded environments, planning + strategies and urban design for clients in the aviation + transit, corporate + commercial + civic, healthcare, higher education, K-12 education, and science + technology markets. Perkins+Will routinely ranks among the world's top design firms and has received hundreds of awards, including the prestigious American Institute of Architects' "Firm of the Year Award." With more LEED® Accredited Professionals than any firm in North America, Perkins+Will is recognized as the preeminent sustainable design firm in the country and recently rated the #1 Green Design firm in the country by Building Design + Construction Magazine. Perkins+Will was the first multi-office company to commit to the 2030 Challenge, in which the firm has pledged that all of our projects will be designed for carbon neutrality by the year 2030.
About Triumph Modular Incorporated
Formed in 1981, Triumph Modular Incorporated of Littleton, Massachusetts is a specialty general contractor and source for leasing temporary space and installation of custom permanent commercial modular buildings. Triumph provides all types of building space, from relocatable to complex multi-story permanent modular buildings. Learn about the game changing innovations in education and classroom planning at http://www.triumphmodular.com/modular-classrooms-sproutspace.php
###