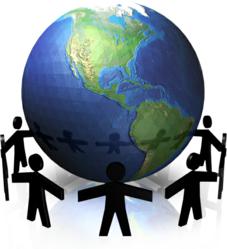 If the purpose (of these bombs) is to defend civilian life, in reality, they are destroying it
Henderson, NV (Vocus/PRWEB) April 13, 2011
Avalon International Trusteeship (AIT), an international non-profit humanitarian institution for more than 25 years, announces the launch of a global initiative to bring humanitarian aid to the people of Libya. AIT hopes to raise awareness about the current state of the Libyan people. In addition AIT continues to work diligently to foster philanthropic and charitable assistance.
AIT's international initiative stems from a previous outreach program crafted five years ago in Libya. AIT was forced to close all operating offices in Benghazi, Tripoli and Zawia due to excessive acts of violence. The current political unrest has prompted AIT to launch a similar initiative from its current US borders.
According to Press TV: "NATO air strikes kill Libyan civilians". The US led military alliance admits that its forces have killed dozens of civilians and wounded others in the ongoing aerial attacks on key Libyan cities.
AIT has achieved success in encouraging several Arab countries to donate funds, some in excess of 10 million dollars. In doing so AIT continues to solicit aid in an effort to comfort the Libyan people. In addition to raising funds, AIT interviews Libyan people every night via telephone. The interviews provide a valid source of independent and unbiased information about the seemingly forgotten people of Libya.
"The so called humanitarian raids have caused dozens of victims among civilians in some areas of Tripoli," the Libyan Capital. Bishop Giovanni Innocenzo Martinelli, the apostolic vicar of Tripoli, told the Vatican's missionary news agency Fides March 31st. His statements were published by Catholic News Service, writer John Thevis. In an interview with Asia News, Mgr. Martinelli said today: "The effects of the war are being felt - water, food and fuel are becoming scarce in the city" (Tripoli). He points out that the bombs are crippling the population. Today - he continues- "there were more that 50 abortions (miscarriages) in the hospital in Tripoli, due to the trauma of the war". According to the Archbishop "a bomb cannot accurately destroy a military site, instead it has unforeseen consequences that can effect innocent people, homes and hospitals. If the purpose is to defend civilian life, in reality, they are destroying it".
AIT encourages everyone to please join hands with AIT and pray for all the innocent people of Libya and dig deep into your pockets and help AIT bring some comfort to the 10's of thousands of people who are considered collateral damage to the World's leaders. AIT considers them people and we believe that you also consider them human beings who deserve equitable treatment under the law.
For more information please visit http://www.libyanpeopleneedhelp.com/
###