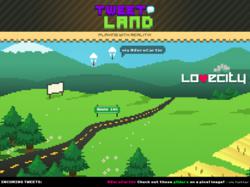 It's a world of surprises. Tweet Land has several games that are affected by the thousands of tweets around the world
Palo Alto, California (PRWEB) April 10, 2011
Tweet Land is about to emerge. A group of six young entrepreneurs started a public campaign to raise funds to finish their latest creation -Tweet Land- the first set of games in the world that play with reality.
By using the well-known website Kickstarter.com, these costarican innovators hope to go beyond their $7,000 goal, which is the last push they need to present this unique platform designed for iPhone and web browsers. Tweet Land turns people's comments around the world on Twitter, microblogging website, in a scene or activity on the game. For instance, if someone writes "meteorite", a meteorite will immediately appear and change the game.
"We're very excited, but we need everybody's help to make this dream a reality and for which we have been working for more than six months", they stated.
Three by three
Advertisers Juan Diego Espinoza, Néstor Villalobos and Luis Diego Vásquez, and computer science specialists Alberto, Andrés and Felipe Cartín, are the ones behind this idea.
Juan Diego, Néstor and Luis Diego are creative advertisers, who have won several awards, the most important being the Silver Lion in the 57th edition of the Cannes Lions International Festival of Creativity 2010 in France, one of the world's most important advertising festivals.
The remaining three team-members: Alberto, Andrés and Felipe, are siblings and part of the team that created Boss, an iPhone game which has reached important sales of its iPad versions and of Wackylands Green, an important videogame collection designed for iPhone and iPod Touch.
"We're just in the middle of our project, we've invested our savings in order to become technology entrepreneurs and go forward with this idea, but we currently need to cover production and distribution costs", they assured.
"It's a world of surprises. Tweet Land has several games that are affected by the thousands of tweets around the world. This way, the games are always changing and are different according to what's being talked about in the Web at that moment. For example if you're playing the race game, Route 140, and someone comments on Twitter that they saw a car accident in the real world, a car accident will occur in the game. The same would happen in the action-game Love City, a city where 'love' and 'hate' fight each other. Each time somebody tweets something with the word 'love', a citizen will try to hug you, an Anti-Care Bear, which defends itself with its weapons that are charged each time somebody comments that they 'hate' something in Twitter. This way, Tweet Land recreates a new game each time, depending on the tweets that are shared in that instant around the world. The good thing is that anybody can play without the need of a Twitter account," they advanced.
From 7,000 on
To raise the money, the team will start asking for help this week through Kickstarter.com, a website dedicated to raising funds in a collective manner for scientific, artistic and creative projects.
In exchange for each donation, people who collaborate will receive different kinds of rewards depending of the amount of money they donated, starting with the possibility to try the game before it is launched, to appearing in the videogame as founder, and even getting benefits like the chance of downloading the original soundtrack and limited editions of graphic material.
According to Kickstarter's rules, the creators play all-or-nothing. To raise the funds, they need to exceed their $7,000 goal within 30 days. In the opposite case, no money changes hands.
"This is a key moment, because we don't count on any kind of financial help, but in case we reach the goal, we will be commited to give you a better product that in the future will even have exclusive versions for iPad, iPod or Android", they added.
In case the goal is reached, they hope Tweet Land will be launched within 3 months.
Press Kit
http://tweetlandgame.com/PressKit/TweetLand%20-%20Press%20Kit.zip
More information
http://www.tweetlandgame.com/support
http://www.facebook.com/tweetlandgame
http://www.twitter.com/tweetlandgame
http://www.tweetlandgame.tumblr.com
###