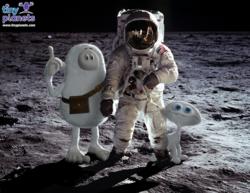 Bing and Bong are branching out into rocket science - for real. Tiny Planets is bringing the Moon to kids.
London, England (PRWEB UK) 8 April 2011
Bing & Bong's Tiny Planets (http://www.tinyplanets.com) has been a favourite with kids of all ages for a number of years now. The double BAFTA award winning television and interactive property features adorable furry aliens Bing and Bong, who travel the universe on their catapult-launched sofa solving problems and having adventures, and has been aired in almost 120 countries around the world.
Now however Bing and Bong are branching out into rocket science - for real. In conjunction with the European Commission's cutting edge research project for the semantic web called INSEMTIVES (http://www.insemtives.org) and the Citizen Science Alliance (CSA, http://www.citizensciencealliance.org), Tiny Planets is bringing the moon to kids. MOON EXPLORER is a junior version of the CSA's hugely successful Moon Zoo project, taking images from NASA's Lunar Reconnaissance Orbiter (LRO) and asking everday web users to mark them up using simple graphic tools that provide vital information to space scientists. Now kids can help astronomers by marking craters, counting boulders and identifying strange features on the moon - all from the comfort of a furry white sofa.
It's a lot of fun, but INSEMTIVES is a project with a serious purpose. The semantic web, the next generation internet, will require a huge amount of complex, interlinked data to make it work, and researchers at companies and universities right across Europe are trying to figure out the best way to generate this mass of data. The good news is that everyone can play their part - including children, which is why Bing and Bong are encouraging kids to get involved.
It's not just all work and no play though; http://www.TinyPlanets.com features games, puzzles, quizzes and even the opportunity to adopt your very own small furry alien - green hexapods are apparently a favourite - so that children can have fun as they learn and as they help to do real research. Parents need to create a free account for their children to play MOON EXPLORER, and there's a small subscription for access to premium content - such as streamed episodes of the TV series - but there's plenty to do on the site without paying a penny, cent or euro.
Coordinated by the Semantic Technologies Institute (STI) in Innsbruck Austria, the objective of INSEMTIVES is to 'bridge the gap bet­ween human and computational intell­igence in the current semantic content authoring R&D landscape.' With partners in the UK, Spain, Italy, Austria, Germany, Poland, Romania and Bulgaria it's an example of complex problems being tackled on a pan-European level with a very high degree of international, if not interplanetary, cooperation.
Bing and Bong still think the moon is an amazing place though; after all, you never know just who you're going to bump into!
# # #