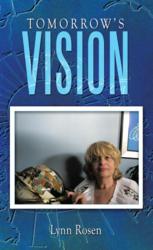 Brooklyn, NY (Vocus/PRWEB) April 11, 2011
According to the United Nations Food and Agriculture Organization (FAO), 925 million people—roughly 1 in 7—went hungry in 2010. It was hearing these gloomy statistics that inspired courageous elementary school students to do anything and everything they could to try to help alleviate world hunger.
'Tomorrow's Vision,' written by their teacher, Lynn Rosen, shares details of these students' amazing project and poetry submitted by the classmates. After learning what global hunger was, students in Rosen's class brainstormed ways to help combat it and make a difference in their own community by donating their time and personal belongings to the cause.
Within a month they collected close to 1,000 cans to donate to the Food Bank of New York. They sent in nutritional pictures for a food bank and held drives for old clothing and books. The class also distributed hunger fact booklets to other classes and created T-shirts with nutritional facts to sell at PTA conferences—raising almost $700 to donate to the Food Bank.
What started as a class lesson for these children turned into a much larger project—a project to alleviate the world's suffering. 'Tomorrow's Vision' is a thought-provoking glimpse of the promise of tomorrow's generation, starting with the youth of today.
Proceeds from the sale of the book go to the Lynn's Kids Foundation, which partners with children in order to promote an end to world hunger.
About the Author:
Lynn Rosen is a former New York City school teacher, humanitarian and hunger rights activist fighting for equality in healthcare and human rights. Rosen founded the Lynn's Kids Foundation, which helps children understand and fight issues like poverty and world hunger. She's actively involved in volunteer work with the Hunger Action Network of New York, United for Action, Global Arts to Go, New York Cares and MoveOn.org. You can learn more about Rosen and how to help end world hunger at http://www.nomorehunger.webs.com.
###