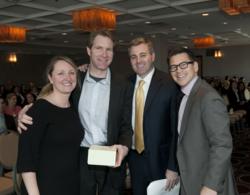 "Innovation is the key to driving growth in our business, and we have the most innovative real estate agents in Chicagoland." Michael Golden, co-founder, @properties
Chicago, IL (Vocus/PRWEB) April 12, 2011
Chicago real estate brokerage firm @properties recently held its annual @awards ceremony recognizing outstanding sales achievement in 2010. The awards highlighted another strong performance by @properties, which was both the No. 1 residential brokerage firm in the city of Chicago and the fastest growing brokerage firm on the North Shore for the second consecutive year.
More than 120 agents were honored in more than 30 categories including: Rookie of the Year; Most Improved Agent; Best Team Player; Development Division Outstanding Achievement; and Top Producer for Closed Listings, Buyer Brokerage and Overall Closed Volume.
@properties also presented its prestigious Road to the Rolex award to sales associates who achieved $10 million or more in annual closed sales volume for their first time as an @properties agent. This year there were a record 15 Road to the Rolex winners: Kevin Wood, Michael Thomas, the Beth Wexler/Joey Gault team, Peter Cummins, Margaret Baczkowski, Mary Haight, Milena Birov, the John Baylor/Barbara Shields team, James Gramata, the Ryan Gosset/Emily Gosset/Nadine Shehaiber team, Alan Meyerowitz, Eric Chaplik, Monica Childs, Dennis Huyck and Scott Zelkin. Each agent or team receives a Rolex watch.
According to tradition @properties also presented a Rolex to one outstanding staff member. This year's recipient was Matt Dollinger, @properties' vice president of strategic development. Dollinger spearheads technology initiatives and provides performance coaching and business planning to @properties' agents.
"We couldn't be more proud of the performance our agents turned in for 2010 given the adverse market conditions," said Thaddeus Wong, co-founder of @properties.
"Innovation is the key to driving growth in our business, and we have the most innovative real estate agents in Chicagoland," said Michael Golden, co-founder of @properties.
In addition to the awards presentation, the program also featured a keynote speech from noted industry-trends guru Stefan Swanepoel, who spoke about the potential effects of changing demographics and emerging technologies.
"I don't see many companies like @properties. You are at the vanguard of the brokerage industry," Swanepoel told attendees.
@properties generated over $2 billion in sales in 2010, a year in which the firm grew by more than 100 agents and opened its seventh office location.
About @properties
Established in 2000, @properties is a Chicago real estate firm offering residential brokerage; commercial brokerage; sales and marketing for new-construction and condominium-conversion developments; relocation; property management; and institutional services for distressed and REO assets. The company has over 950 licensed agents in seven city and North Shore Chicago locations: Winnetka, Evanston, Bucktown, Lincoln Park, River North, Streeterville and Lakeview. For more information, visit http://www.atproperties.com.
###