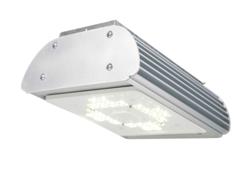 We spend months designing, testing, redesigning and perfecting all our LED fixtures so that each one provides a long life, a life cycle conscious maintenance plan and energy savings
Yorba Linda, CA (Vocus/PRWEB) April 18, 2011
Precision-Paragon P2, a national leading lighting manufacturer, announced today that it is unveiling two newly designed, ultra-efficient, high-bay LED based fixtures for commercial and industrial applications.
The QPD parking deck luminaire and the QAL cooler application high-bay, are available immediately.
"We are incredibly proud to be releasing these two highly engineered, energy-efficient light fixtures," said Joe Martin, P2 vice president and general manager. "These are fixtures with real paybacks, and they represent the next step in lighting technology."
Both fixtures are life cycle conscious, designed to be long lived in order to reduce maintenance costs. They incorporate a replaceable and changeable LED cartridge assembly, which enables a maintenance plan that involves changing just the LED cartridge, not replacing the entire fixture.
The QPD is an LED parking deck luminaire with a range of 60 watts to 90 watts. Its optics have been specifically tailored for parking garage applications. The fixture has been engineered for easy installation with unparalleled optical and thermal performance, and optimized component life. It is designed to replace 70-250 watt HIDs.
The QAL is an LED freezer fixture with fully integrated controls. It has been designed specifically for bulk storage freezers, and can be configured with either asymmetrical aisle optics or high-bay flood optics. It can operate at temperatures as low as negative 20 degrees Fahrenheit. While traditional lighting sources can have difficulties with warm-up times in such low temperatures which make it difficult to incorporate energy-saving sensors, the QAL's LED engine features instant re-strike so that occupancy sensors can be used without any ill effects. And because heat is directly related to the usable life of LED components, the QAL contains a patent-pending housing that makes this fixture particularly long lived. The fixture is designed to replace 400 watt HID-based fixtures.
"We spend months designing, testing, redesigning and perfecting all our LED fixtures so that each one provides a long life, a life cycle conscious maintenance plan and energy savings," Martin said. "By staying ahead of the development curve, we can offer state-of-the-art products like the QPD and QAL."
For customers and potential end users interested in learning more about the new QPD and QAL fixtures, P2's service hub is ready to provide detailed information. The service hub can be accessed at http://www.p-2.com, or by calling 714-386-5550.
About Precision-Paragon P2: For nearly 20 years, P2 has made high-quality, indoor-and-outdoor energy-efficient lighting products for just about any setting — including retail, commercial and industrial spaces. P2's energy-efficient lighting drastically cuts energy consumption, creating big cost savings and significant environmental benefits. Over the last two decades, P2 has earned a reputation for going the extra distance in customer service and producing high quality, American-made products. P2 products are manufactured in Gainesville, Fla., Hudson, Wis., and at the company's headquarters in Yorba Linda, Calif.
Web site: http://www.p-2.com
###