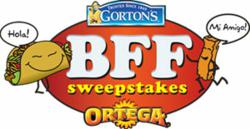 Gloucester, MA (PRWEB) April 20, 2011
Gorton's Seafood and Ortega have teamed up to create an exciting new online sweepstakes that celebrates the latest culinary pairing – seafood and tacos. The BFF Sweepstakes, located at http://www.welovefishtacos.com, asks consumers to share a photo of their best friend and tell why they want to stay connected forever, for a chance to win a grand prize of two complete Home Theater Systems including a 50" Panasonic Internet-Connected High Definition Television with Skype Service, Blu-Ray, and Surround Sound System valued at $4,000.00. One-hundred first prizes consist of two BFF t-shirts featuring the Gorton's fish stick and the Ortega taco.
"Fish tacos have become hugely popular both at restaurants and at home. When Gorton's and Ortega came together and created tasty, easy-to-make fish and shrimp taco recipes, our consumers let us know they loved this delicious pairing," stated Zach Soolman, Director of Consumer Marketing at Gorton's Seafood. "Our BFF promotion reminds everyone that Gorton's and Ortega make a great pair when teamed up in a fish taco, like two BFFs."
In addition to the sweepstakes, http://www.welovefishtacos.com also provides five recipes for nutritionally loaded tacos with ingredients such as seafood, a natural source of omega-3s, calcium-rich cheese and vitamin-packed veggies. From the kid-friendly "Crunchy Fish Taco," featuring Gorton's Fish Sticks and Ortega's Yellow Corn Taco Shells, to the more gourmet "Avocado & Mango Lime-Grilled Shrimp Tacos," featuring Gorton's Classic Grilled Shrimp and Ortega's Whole Wheat Soft Tortillas, there's an option to please everyone.
The website, http://www.welovefishtacos.com, features fun Mexican party ideas and a gallery of randomly selected "Featured BFFs," showcasing photos and essay entries. Each entrant who is selected to be a Featured BFF will receive two Gorton's & Ortega BFF t-shirts.
One Grand Prize winner and one hundred First Prize Winners will be selected via random drawing on or about May 5, 2011. One Daily Prize winner will be selected daily via random drawings from April 1, 2011 through May 5, 2011. The Grand Prize consisting of two Home Theater Systems (each system to include Skype Service, one 50" Panasonic Internet-Connected High Definition TV, Blu-Ray, and Surround Sound System) will be drawn on or about May 5, 2011. One hundred first prize winners consisting of two Gorton's & Ortega BFF T-shirts to be drawn on or about May 5, 2011. Twenty Five Daily Prize Winners consisting of two Gorton's & Ortega BFF T-shirts to be drawn on the weekdays (Monday- Friday) between April 1st, 2011 to May 5, 2011. Entries are being accepted until May 5, 2011. For complete rules, go to http://www.welovefishtacos.com.
Gorton's is also offering downloadable coupons at http://www.gortons.com and a free digital newsletter that provides monthly recipes and coupon offers. In addition, Gorton's Seafood is now on Facebook http://www.facebook.com/gortonsseafood where consumers may become a fan and be the first to hear about news, contest announcements and special promotions.
Ortega is offering downloadable coupons, recipes and promotions at http://www.ortega.com. The Ortega Taco Club, available on the company's website, offers an official newsletter, a personalized recipe box and a chance to win a free Taco Night Party Kit.
About Gorton's Seafood
Founded in 1849, Gorton's is one of America's oldest continuously operating companies. Headquartered in Gloucester, Massachusetts, Gorton's continues to be the innovative leader in the seafood industry. Gorton's full line of frozen seafood products includes Breaded and Battered Fish Sticks and Fillets, Flavored Fillets, Tenders, Shrimp Bowls, Popcorn Shrimp, Grilled Fillets, including Tilapia and Salmon, Premium Fillets, and Grilled Shrimp. Gorton's products are available nationwide in better independent and chain grocery stores. Gorton's proudly stands behind its products with its "Trust the Fisherman Guarantee," which represents an unwavering commitment for over 150 years to providing the best-tasting, highest quality seafood meals. Among consumers the Gorton's Fisherman, in his yellow slicker and rain hat, has become an icon symbolizing this commitment. For more information, please visit http://www.gortons.com or call 1-800-222-6846.
About B&G Foods, Inc.
B&G Foods and its subsidiaries manufacture, sell and distribute a diversified portfolio of high-quality, shelf-stable foods across the United States, Canada and Puerto Rico. B&G Foods' products include hot cereals, fruit spreads, canned meats and beans, spices, seasonings, marinades, hot sauces, wine vinegar, maple syrup, molasses, salad dressings, Mexican-style sauces, taco shells and kits, salsas, pickles, peppers and other specialty food products. B&G Foods competes in the retail grocery, food service, specialty, private label, club and mass merchandiser channels of distribution. Based in Parsippany, New Jersey, B&G Foods' products are marketed under many recognized brands, including Ac'cent, B&G, B&M, Brer Rabbit, Cream of Rice, Cream of Wheat, Emeril's, Grandma's Molasses, Joan of Arc, Las Palmas, Maple Grove Farms of Vermont, Ortega, Polaner, Red Devil, Regina, Sa-són, Trappey's, Underwood, VermontMaid and Wright's.
###