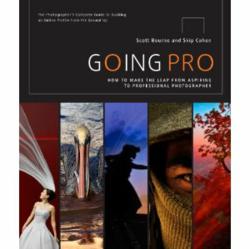 Las Vegas, NV (PRWEB) April 21, 2011
Photo industry experts, Scott Bourne and Skip Cohen are celebrating the first anniversary of GoingPro this month and they have a lot to celebrate! GoingPro, originally started out as a book project for aspiring professional photographers.
"We had dinner together in New Orleans, while at a conference and we started writing ideas out on a cocktail napkin! The more we talked, the more we realized how great the need was for a project designed to help new photographers!" commented Bourne.
The book project was picked up by Amphoto Books at Random House and will be released in October of this year. But the book was only the beginning. Shortly after going to work on the manuscript, Bourne, the most influential professional photographer on Twitter, with nearly 100,000 followers, suggested they do a blog together. The blog led to podcasts, webinars and even a live road show with GoingPro Bootcamp last October.
Today, more than 50,000 photographers have listened to the GoingPro Podcasts or read the GoingPro blog. The team of Bourne and Cohen release a new podcast every ten days. The site delivers hundreds of thousands of page views a month at http://www.GoingPro2011.com. There are more than 300 entries on the site, all about the marketing and business of professional photography. GoingPro2010 on Twitter has 8000 followers in its own right! All in just the first year!
"We figured out that between the two of us, we've got a combined lifetime of 75 years experience in photography. We have very different backgrounds complimenting our skill sets and it just makes working on a project like this effective as well as fun!" said Cohen.
What's made GoingPro so successful? The team utilizes all aspects of their marketing and social media properties to feed the concept. Bourne utilizes his Twitter presence and his personal blog, Photofocus, while Cohen utilizes his blog, SkipsPhotoNetwork and his presence on Facebook. Each location helps build the brand through the GoingPro blog.
Neither are resting on their laurels! Year two is off to a feverish start with new sponsors, new podcasts with great guest spots, an anticipated road show and more webinars – there's even a rumor of a second book project!
For more information contact Scott Bourne at bournemediagroup (at) gmail (dot) com or Skip Cohen at skip (at) mei500 (dot) com.
###