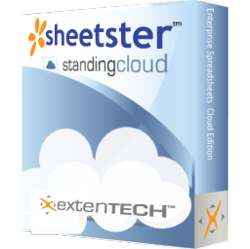 Now spreadsheet users and docs app developers are mere minutes away from dramatically lowering their barriers to entry -- the exclusive club of the virtual private cloud is now open to all.
San Francisco, CA and BOULDER, Colorado (PRWEB) April 27, 2011
Sheetster for Standing Cloud offers real-time editing and collaboration accessed from anywhere at anytime without having to install any software. With a familiar Excel-like spreadsheet interface, users can upload and edit their spreadsheets, with support for advanced features like charts, data validations, and conditional formatting, as well as support for editing Excel 97 - 2010 files. As an open source application server, Sheetster Server can easily be extended and embedded into other web based and offline applications such as portals and reporting front-ends giving user's unlimited flexibility and control. In addition, Extentech will be launching an open source document editor in Spring 2011 to round out their offering.
Standing Cloud offers a unique service by providing a layer between applications and the underlying host provider -- such as Amazon Web Services or Rackspace -- which means Sheetster for Standing Cloud users can instantly move their private cloud office between hosts to save costs, gain redundancy, and mitagate risk of vendor lock in. Because Sheetster is open source, developers are free to customize the application files and develop spreadsheet applications, storing and access docs, creating dynamic online reports, and spreadsheet data using Sheetster's powerful APIs.
Standing Cloud provides flexibility, control and frequent monitoring including hourly back-ups that alleviate downtime issues and slow running servers. With an easy to use, intuitive management console, users can run a spreadsheet instance within minutes.
Standing Cloud provides instant Sheetster deployment, basic application management and hosting including:

24x7 monitoring
hourly backups
auto-recovery (to another server or another cloud entirely in the case of downtime) own spreadsheet
versioning
scaling to streamline app management
support in instances of high site traffic.
Says John McMahon, CEO, Extentech Inc., "From the first time I tried Standing Cloud I was blown away with the fact that someone with no skills beyond using a web browser can login and within 5 minutes have a sophisticated cloud-based web application online and at their fingertips. As soon as I tried Standing Cloud I began working towards providing Sheetster on this compelling new platform. Now spreadsheet users and docs app developers are mere minutes away from dramatically lowering their barriers to entry -- the exclusive club of the virtual private cloud is now open to all. Welcome to the future!"
"We are eager to work with great application developers like Extentech who help tap the power of the cloud with its intuitive, business-ready spreadsheet solution," said David J. Jilk, CEO of Standing Cloud.
To login and take a free test drive of Sheetster on Standing Cloud, please visit:
http://www.standingcloud.com/network/sheetsterpro
About Standing Cloud
Standing Cloud is an application management software company that makes it easy to deploy and manage applications with reliability and control, using cloud technology. The service supports more than 80 open-source applications and world-class cloud providers, including Amazon, Rackspace, GoGrid, SliceHost, Softlayer and Tagadab, and offers one-click installations (including free test drives); round-the-clock monitoring and auto-restore, including restore to another cloud hosting service in the event of downtime; easy access to backup data; and root access. Target customers include SMB users who want to deploy applications on their own, and solution providers or IT professionals who want to save time, money and pain while maintaining a high level of control and reliability.
About Extentech, Inc.
Extentech is committed to creating the best docs editing and development platform on earth, while providing the flexibility and choice of open source. Sheetster and the DocsFree project are sponsored by Extentech Inc. Headquartered in San Francisco CA., Extentech, Inc. is a leading developer of spreadsheet development tools and web applications that help our customers maximize ROI through spreadsheets and docs technology. Founded in 1999, Extentech Inc. provides state-of-the-art spreadsheet automation, integration and business intelligence tools for IBM, JPMorgan, Nielsen Corporation, Toyota, and hundreds of companies worldwide.
###