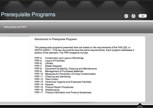 Implement Prerequisite programs in your facility with our comprehensive training and template package based on PAS 220 Requirements.
(PRWEB) April 28, 2011
Food safety management professionals at 22000-Tools have developed a package of templates, online training and step by step instructions to provide food manufacturers with the information they need to design and implement prerequisite programs (PRPs). PRPs provide the foundation for a Food Safety Management System by creating an environment safe from food safety hazards for handling and processing of food and ingredients.
More and more retailers and food manufacturers are requiring that their suppliers achieve Food Management Systems Registration. The first step to achieving this goal is to put in place prerequisite programs that meet recognized requirements. The Publicly Available Standard 220, published by BSI is widely recognized, and is paired with the ISO 22000 Standard to outline the requirements for a Global Food Safety Initiative recognized Food Safety Management System registration scheme.
Each company must design programs specific to their own facility, products and environment. The Prerequisite Program Package assists them with the identification and design of programs that comply with the PAS 220 requirements. The programs are designed to address facility design and layout, cleaning and sanitation, pest control, hygiene and personnel policies, prevention of contamination and more. Each program works to eliminate the potential for food safety hazards in the production environment.
Companies can access the tool directly from 22000-Tools.com and start using the program immediately after purchase. The program is also available as part of 22000-Tools "22000 Project Manager" a comprehensive package of tools, training and templates for FSSC 22000 implementation.
###