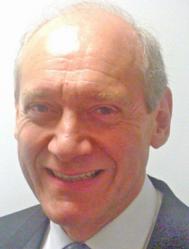 Tony's thought leadership in pushing the boundaries of operational risk management through qualitative modelling has been exceptional.
London, England (PRWEB) April 29, 2011
Glasgow Caledonian University has appointed Tony Blunden to an Honorary Professorship in the Department of Accounting, Finance and Risk in recognition of both his practical knowledge and application of risk management and his extensive academic work through many years of public speaking on risk management and the publishing of a considerable number of articles and books.
Dr Robert Webb, the Head of Department and Director of Caledonian Business School's postgraduate programmes, said 'Glasgow Caledonian University is delighted to welcome Tony Blunden to its department of Department of Accounting, Finance and Risk, a leader in risk management education in the UK. inTony's wealth of knowledge and experience of operational risk management will provide inspiration andsights that will greatly benefit our students and his appointment builds on the university's links with London, which have recently been further strengthened by the establishment of GCU London, our postgraduate university campus.'
John Kiddy, CEO of Chase Cooper, commented 'We are delighted to build further ties with academia. We strongly believe that a combination of academic work and practical knowledge is fundamental to the further development of operational risk management. Tony's thought leadership in pushing the boundaries of operational risk management through qualitative modelling has been exceptional. In addition, his book 'Mastering Operational Risk', co-authored with John Thirlwell and published by Financial Times Prentice Hall last year, has given the industry the first clear no-nonsense practical guide to operational risk management.'
About Chase Cooper Ltd
Chase Cooper is a dynamic risk management solutions provider, applying an innovative approach to risk management. Focusing on the financial sector, it provides unique all round solutions for Enterprise Risk, Operational Risk (Basel II and Solvency II), COSO , FERMA, SOX, Credit and Market Risk. Its visionary software solution aCCelerate is a combination of a highly effective modern architecture providing a market leading user intuitive approach to risk management, supported by a unique combination of consulting services , resourcing and training. Chase Cooper's dedication to the risk market place is reflected in the continuous evolution of aCCelerate through integration and interpretation of market developments identified through its consultancy division. Based in the UK, its risk management solutions are used by many of the world's leading financial institutions
About Glasgow Caledonian University
Caledonian Business School's high-quality, professional and commercially oriented programmes, combined with its strong track record in research and excellent facilities, have made it one of the UK's leading providers of business education. The school is the first Chartered Institute for Securities and Investment Centre of Excellence specialising in financial services operations and its MSc in Risk Management was recently described as a beacon of expertise by Steve Fowler, Chief Executive of the Institute of Risk Management.
Glasgow Caledonian University contact:
Lynn McGarry
Lynn.McGarry(at)gcu(dot)ac(dot)uk
TEL: +44 (0)141 331 8684
Chase Cooper contact:
Rohini Uppal
rohini.uppal(at)chasecooper(dot)com
TEL: +44 (0)20 3215 1022
# # #