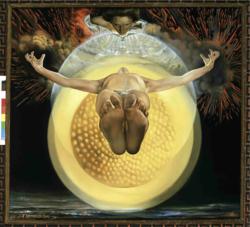 "It is with great pride that we are able to share this collection with the public" says Roxana Velasquez, Executive Director at The San Diego Museum of Art.
San Diego, California (PRWEB) April 30, 2011
For the first and only time in the United States, The San Diego Museum of Art presents the exhibition "From El Greco to Dalí: The Great Spanish Masters from the Pérez Simón Collection." Displaying 64 Spanish oil paintings, sculptures, and drawings from more than 25 master painters, the exhibition, on view from July 8 to November 6, 2011, presents a remarkable overview and visual representation of the progression and history of art in Spain over the last 500 years.
Bringing together five centuries of Spanish works of art from various artistic movements offers a fascinating aesthetic and artistic journey that displays both the continuities and breaks with tradition that have marked the evolution of Spanish art. With the works of El Greco, José de Ribera and Bartolomé Esteban Murillo, the visitor is taken to the heart of the different faces of Catholic Reformation art in the 16th-18th centuries. Goya and Sanchez Coello counter this religious art with beautiful, and sensitive, court portraits of Spanish Monarchs, balancing the portrayal of power with realistic representations.
10 works by Joaquin Sorolla, the undisputed master of scenes portraying simple pleasures and known for vivid, bright, strong canvasses, highlight the strong feeling of national identity that characterizes Spanish art of the 19th century. The exhibition finishes with a dialogue between Cubism and Surrealism by the Spanish masters who revolutionized western art: Pablo Picasso, Joan Miro, and Salvador Dali.
"It is with great pride that we are able to share this collection with the public," says Roxana Velasquez, Executive Director at The San Diego Museum of Art. "Given the historical connection among California, Mexico, and Spain, this exhibition of the highest-quality works of art highlight the relationship between the Spanish roots of the Museum's collection and the history of this institution and Balboa Park."
Juan Antonio Pérez Simón, an important Spanish-Mexican businessman and celebrated art collector, began to build his collection in the 1970s. Over a period of about ten years, his passion for art and taste for culture has led him to acquire a magnificent collection of paintings, sculptures, drawings, etchings, decorative objets d'art and manuscripts together with a library of more than 15,000 books. This is one of the most important private collections in the world, known for both for its well-known artists and comprehensive character.
Juan Antonio Pérez Simón talks about his artistic choices as an extension of his personality: "I have built up a personal world that reflects what defines me and excites me. Anyone who, like me, does not have that wonderful gift of creating beauty through art, can console themselves by admiring works of art and enjoying the process of falling in love with them." A lover of all the European schools, the paintings presented at The San Diego Museum of Art represent the Hispanic part of his collection, least familiar to the general public.
Museum Information:
The San Diego Museum of Art is located at 1450 El Prado in Balboa Park, San Diego, Calif., 92101
General Information, (619) 232-7931, Group Sales: (619) 696-1935
Website: http://www.TheSanDiegoMuseumofArt.org
Twitter: @SDMA
Facebook: http://www.facebook.com/TheSanDiegoMuseumofArt
The San Diego Museum of Art provides a rich and diverse cultural experience for 350,000 visitors annually. Located in the heart of beautiful Balboa Park, the Museum's nationally renowned collections include Spanish and Italian old masters, South Asian paintings, and 19th and 20th century American paintings and sculptures. The Museum regularly features major exhibitions of art from around the world, as well as an extensive year-round schedule supporting cultural and educational programs for children and adults. At The San Diego Museum of Art, exhibition text is always in English and Spanish.
# # #