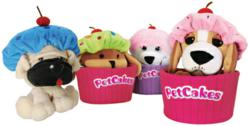 cute and sweet, without the cavities
Maspeth, NY (PRWEB) May 03, 2011
At first glance, PetCakes® look like soft, colorful cupcakes, but hold on! The surprise is waiting inside and will delight every child, tween or adult as they get to know their new cupcake theme playmate. Each of the PetCakes® characters has their own little whimsical story and they measure 5" X 8" X 5." "Series One" PetCakes® are puppies named: Blueberry Buddy™, Randy Candy™, Coco Coconut™ and Twinkle Sprinkles™. "Series One" is only the first series of nine. Future series' will include adorable farm, jungle and forest animals, with more puppies and kittens coming soon!
All PetCakes® have yummy "frosting" for a hat with a cherry on top and they all love to nestle inside their own individual cupcake wrapper. Also for collecting are the matching backpack, slippers, pillow, nappy mat, hand bag and mini flocked figurines (Mini's) that have been developed for extending the PetCakes® Collectibles brand.
For more interactive play, Well Made Toy has developed an online presence with fun games and is in development of creating its own sweet interactive world. With the PetCakes® "parent approved" web-site, children will be offered access to explore an interactive world of sweetness where they can have fun, safely playing with their characters on-line.
PetCakes® make great gifts, party favors, stocking stuffers and collectibles. They are just right for kids and adults of all ages to love and cuddle. PetCakes® deliver a world of sweet fun that everybody will eat up!
Visit their website at http://www.myPetCakes.com
Editors call for a free review or editorial sample at 1-800-803-4370
For product photos or additional information
Contact Mary Anderson at GNV Direct: 417-887-2980
# # #