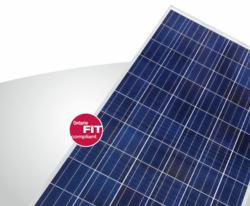 This allows us to provide our valued customers with Ontario content panels featuring long-term performance and build quality for which Conergy products are known.
Toronto, Canada - Hamburg, Germany (PRWEB) May 05, 2011
Conergy Canada, a subsidiary of Conergy AG, will offer Conergy ON quality photovoltaic module starting early May 2011. Developed in a strategic partnership with an Ontario-based module manufacturer, the Conergy ON module achieves 15% domestic content for MicroFIT projects and 13% domestic content for FIT projects under the Ontario Green Energy Act program outlining local content requirements for 2011. Module supply issues adversely affected Ontario solar project developers and integrators in 2010 and Conergy Canada expects to experience high demand for the Conergy ON module this year. The company encourages its costumers to enter into frame agreements in order to guarantee supply and to keep projects on target.
Jared Donald, President Conergy Canada, says: "We are excited to have partnered with an established international manufacturer that is locally located. This allows us to provide our valued customers with Ontario content panels featuring long-term performance and build quality for which Conergy products are known." The solar experts are currently taking their customers' pre-orders.
The new Conergy ON module benefits from Conergy's long-standing manufacturing experience. The company's module manufacturing plant in Frankfurt (Oder), Germany includes a complete research and testing facility which provides cutting-edge knowledge and expertise. "Our long-standing history as a systems integrator, trading house and system manufacturer provides us know-how for producing a durable, quality module. This gives us an important advantage when closely working with our local partners. As a result, Conergy offers a quality product, which benefits from our years of expertise, while specifically meeting the criteria of the fast-growing Ontario solar market," says Conergy Group's Chief Sales Officer, Andreas Wilsdorf.
Unlike many of the modules available on the local Ontario market in the past, the Conergy ON module offers a robust design and warranty coverage to ensure it meets the selection criteria for investment-grade projects. "The issue of module and balance of system 'bankability' is significant in the Ontario market. Modules have to meet the local content requirements – but also the quality standards we have at Conergy. The design and the insulation materials around the cable wires, connections and junction boxes are especially key to the durability of the entire system. Our Conergy ON module features all this and therefore ensures superior engineering in all its components," says Donald.
The Conergy ON module benefits from high-quality components like the Swiss-made Huber+Suhner junction box and the H+S Radox cables and connectors which are among the top five in the independent Photon test results of global manufacturers. Due to the junction box's exceptional durability and performance, which contributes to long-term energy yield and safety, Conergy has made these components standard on all of its in-house manufactured premium-quality modules. "With the Conergy ON solar module, we bring our global manufacturing expertise along with top quality module components to create a durable, highly-efficient product," continues Donald.
Tim Wohlgemut from the independent research and consultant firm, ClearSky Advisors, acknowledges the significance of the new framework agreement for the local market. "The Conergy manufacturing deal is further evidence of the significant investments being made in Ontario due to the FIT program. Ontario has quickly grown to become the second largest North American market for photovoltaics and this growth is expected to continue through 2011."
Through its supplier partnerships, Conergy rounds out its distribution portfolio to provide a one-stop-shop for FIT and MicroFIT components for its extensive network of project developers and system integrators. Conergy's sales and technical teams are experts at helping their customers navigate the complexity of the Ontario local content requirements to ensure that their projects meet all regulations.
About Conergy North America
Only Conergy delivers solar energy systems from a single source. As a system manufacturer, Conergy produces all components for a solar installation and offers all services under one roof. With its modules, inverters and mounting systems, the solar expert creates Conergy System Technology, which is efficient and synchronized solar energy systems for private or commercial rooftops, as well as for multi-Megawatt Parks.
Conergy System Services deliver a "Worry-Free Package" for Conergy solar installations. Conergy's experts not only install on-site turn-key solar projects for multi-MW installations, but they also manage the planning and financing, project implementation, system monitoring, operation and on-going maintenance of the project for maximum performance. With this comprehensive technology and service package, Conergy offers yield insurance for its installations.
Conergy System Sales brings Conergy premium products to nearly 40 countries. The solar expert supports homeowners, installers, wholesalers and investors in their efforts to "go solar" through deep-rooted local operations in 18 countries. With sales activities on five continents, Conergy has close relationships with all its customers. Listed on the Frankfurt stock exchange, Conergy employs more than 1,700 people worldwide. Since Conergy's founding in 1998, it has produced and sold more than 1.5 GW of clean solar power.
Through its acquisition of well-established local companies, Conergy began operating as a distributor and project developer in North America in 2005 and currently has five offices, four warehouses and two production sites in the region. In the United States, Conergy manufacturers mounting systems in Sacramento, CA. In Ontario, Canada Conergy produces modules and mounting systems that meet local content requirements for the Provincial FIT. In addition, Conergy operates a Project Group that develops and operates large-scale systems. Through these activities, Conergy maintains expert knowledge about local market conditions and requirements.
Please contact us if you have any questions or requests.
###