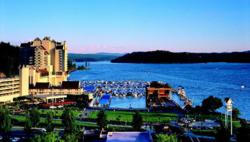 Coeur d'Alene, ID (PRWEB) May 03, 2011
Parents seeking that "epic family adventure" to share with their kids may find what they need in Coeur d'Alene, Idaho. Between whitewater rafting, mountain biking, lake kayaking, riding roller coasters and water slides, and a peaceful base camp in the heart of the lakes and mountains region in the Idaho panhandle, Coeur d'Alene can pretty much satisfy everyone in the family. Did we forget to mention golf? There is plenty of that, too.
Coeur d'Alene is a small lakeside resort town with easy access to lake, lakeshore and mountain activities, as well as the world famous Coeur d'Alene Golf Resort's floating green and the northwest's largest theme park, Silverwood Theme Park and Boulder Beach Water Park.
Young kids will find the Mudgy & Millie Trail to be enchanting and encourage them to enjoy hiking. Based on the children's' storybook by bestselling Coeur d'Alene author Susan Nipp, the hide-and-seek game depicted in the book takes form in the real world as a public art project. The 2-1/4 mile Mudgy Moose Trail along Lake Coeur d'Alene and through Downtown Coeur d'Alene features five life-size bronze statues positioned at locations where Mudgy pauses in his search for Millie. http://www.coeurdalene.org/mm/index.html
Active families can spend a spectacular day mountain biking the Hiawatha Trail. The 13-mile mountain bike route follows an abandoned railway route from the Montana border back into Idaho, downhill through 10 tunnels and across seven railway trestles. The ride is an easy two percent grade. That's right, it's all downhill, with shuttle service back to the top and full rentals available. The ride is appropriate for 6-year olds and up with an adventurous spirit.
http://www.skilookout.com/hiawatha.
For those who prefer to keep their bikes on the pavement, The Trail of the Coeur d'Alenes is a 72-mile paved bike trail on Union Pacific Railroad right of way through beautiful scenery in mountains, valleys and along lakes. Riders can ride any portion of it out and back with many different options for starting points. Harrison, Idaho is a great place to start, with a bike shop and restaurants, and an ice cream treat at the end of the ride. http://www.friendsofcdatrails.org.
ROW Adventures offers guides for these rides and others. Visit them at http://www.rowadventures.com.
The town of Coeur d'Alene is situated on the north end of Lake Coeur d'Alene with many options for seeing the lake from hiking on trails to a lake cruise. ROW Adventures offers guided kayak sunset tours on the lake, The Coeur d'Alene Resort offers 90-minute cruises several times daily. Tubbs Hill is a 120-acre preserve adjacent to downtown and on the lake with beautiful hiking trails and views.
For golf lovers, there are 18 golf courses within a few miles of downtown including the world-famous Coeur d'Alene Resort Golf Course with its floating 14th green and the beautiful links-style Circling Raven. Golf in this region is affordable, un-crowded, and boasts some of the most beautiful scenery in the game.
Visitors can explore Sherman Avenue downtown with its shops, wine bars and gourmet restaurants. Olive oil tasting, wine tasting and local cuisine using huckleberries, and locally raised game are some of the great finds and activities in town.
Silverwood Theme Park is the Northwest's largest theme park, and an unexpected surprise in the midst of the beautiful Idaho landscape. The park has four roller coasters, two of which are classic wooden coasters, a water park, and live entertainment at the ice and magic shows. New in summer 2011 is Ricochet Rapids, a family raft ride that cascades down a 40-foot hill into a 30-foot valley with the additional exhilaration of a steep drop into a 20-foot diameter enclosed MEGA tube. Fifteen miles north of Coeur d'Alene on HWY 95.
Where to Stay?
Coeur d'Alene Resort: this luxury resort on the shore of Lake Coeur d'Alene was just rated by Zagat as one of the best vacation destinations in America. The resort caters to families with kids' activities, spa treatments for teens and tweens, and an attentive staff. The gooey desserts at their restaurant, the Dockside, are always a hit, and kids can go in the kitchen and make their own pizzas at Tito's Italian Grill.
There are also plenty of bed and breakfasts, budget-friendly and brand hotels to choose from. Coeur d'Alene (pronounced core-da-lane) is 40 minutes due east of Spokane, Washington and it's International Airport. For more information, visit http://www.coeurdalene.org.
###