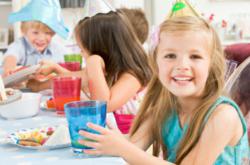 Our readers are looking for that extra element when organizing a party ... The goal for our newsletter is to bring the best party tips, recipes and offers without busting the organizer's budget.
Los Angeles, CA (PRWEB) May 03, 2011
Summer is almost here, and party website Themeaparty.com is helping party aficionados celebrate this season of fun and games with a chance to win prizes for signing up for the newsletter, site editor Chris Molnar announced today.
The new monthly newsletter will include how to articles, entertaining tips, seasonal themes and party supply discounts to help organizers create the perfect party any time, anywhere.
"Our readers have asked for regular updates on party news, offers and ideas," said Molnar. "We're happy to respond to those requests an additional source that will give readers party tips, creative snack ideas, and limited-time deals. People will be able to be the first on their block with the latest trends and still wind up spending less."
What's more, for the month of May, subscribers will be automatically entered in a drawing for special party and coupon prizes just for signing up, according to the money-saving site. To be eligible, participants simply sign up for the Themeaparty newsletter. Applicants will earn one additional entry by liking Themeparty's Facebook fan page.
Winners will be drawn at random. The contest begins May 1st and and ends May 31, site organizers said. Winners will be contacted by June 2. Prizes include the following:
1st place: A murder mystery party game, courtesy of Murdermysterygames.net, and a $50 online coupon code from CelebrateExpress.com;
2nd place: A $25 coupon code from CelebrateExpress.com; and
3rd and 4th place: To each, a $10 coupon code from CelebrateExpress.com.
Themeaparty.com has been a party ideas trendsetter since 2009. The site lists hundreds of original theme party articles and recently published such party tie-ins as William and Kate's royal wedding, Justin Bieber and the upcoming The Smurfs movie, due out in theaters in the U.S. July 29th.
"We're on top of the trends, but we offer new ideas for traditional get togethers too, such as Mardi Gras, Disney cartoon themes, Super Bowl and costume parties," Molnar stated.
The site continues to move forward with ideas like fun foods, downloadable and printable party games, decoration ideas and the best deals at the biggest party goods sites for both children and adults.
"We get a lot of requests for 'grown-up parties,'" noted Molnar. "These are becoming more and more popular, and they span every possibility – from costume parties to favorite cartoons to people's childhoods and beloved movie classics."
The site also receives many requests for up-to-the minute trends and ideas, which prompted the idea for a monthly newsletter.
"We wanted to have an additional published resource for people looking for last-minute and unique party ideas," Molnar said. "Our readers are looking for that extra element when organizing a party. They want to come up with something original, but at the same time, finances are often limited. The goal for our newsletter is to bring the best party tips, recipes and offers without busting the organizer's budget."
The site also continues to welcome input from its readership.
"People ask where we get our inspiration," Molnar told reporters. "We're always on the lookout for new ways to celebrate good times, and our writers bring in something fresh with each article and on the blog. But when it really comes down to it, our readers are our finest inspiration source. There's always someone asking, 'How can I do this for less money?' or 'I have limited space. How can I host something truly special?' and we're glad to help. It's kind of an adventure to find the best ways to host parties within a realistic budget and time frame."
About themeaparty.com:
Founded in 2009, Themeaparty.com is a website full of how-to information on party planning and ideas, and has quickly grown to over 30,000 visitors a month. They offer unique and creative advice on hundreds of different party themes, helping visitors plan and create memorable events for friends and family members – birthdays, backyard parties, Halloween, baby showers and any other celebration.
# # #