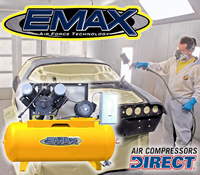 We are happy to carry such a diverse offering of EMAX air compressors and tools as the company has a track-record for high-quality, long-lasting products
Bolingbrook, IL (PRWEB) May 02, 2011
Today AirCompressorsDirect.com announced it is expanding its collection of EMAX air compressors and air tools.
With this announcement, the e-retailer now offers single-stage, two-stage and rotary screw compressors, as well as air dryers, compressor pumps and a wide selection of air tools from EMAX.
"We are happy to carry such a diverse offering of EMAX air compressors and tools as the company has a track-record for high-quality, long-lasting products," said Steve Robbins, resident product expert at Air Compressors Direct.
EMAX has developed a reputation for pioneering compressed air technology and produces some of the quietest and most energy-efficient compressors in the industry.
AirCompressorsDirect.com has established one of the most comprehensive collections of air compressors, carrying more than 475 models of compressors from top brands such as Ingersoll-Rand, Chicago Pneumatic, Campbell Hausfeld and Quincy.
The online superstore has also compiled a complete product offering of air tools, such as air hammers, die grinders, impact wrenches, sanders and much more.
Power Equipment Direct operates nine niche online superstores. In addition to AirCompressorsDirect.com, the Bolingbrook, IL-based company operates ElectricGeneratorsDirect.com, PressureWashersDirect.com, SnowBlowersDirect.com, MowersDirect.com, WaterPumpsDirect.com, SumpPumpsDirect.com, ChainSawsDirect.com and LogSplittersDirect.com.
# # #