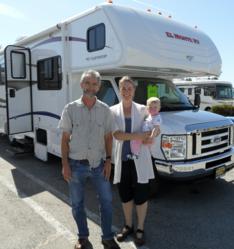 We wanted to experience as much of America as possible.
Los Angeles, CA (PRWEB) May 02, 2011
David Nelson and Kirsten Swick and their three children Eleanor, Jacqui, and Stephanie will be seeing more of the U.S. this year on their vacation than most Americans see in their lifetime. The Australian family from Perth rented a motorhome from El Monte RV and left the companies' Los Angeles location on April 25th. They won't be returning until October 10th. Their plans start with visiting a variety of sites including national and state parks on the west coast, Las Vegas, then across the southern U.S. to Florida. From Florida the family will then travel up the east coast of the United States to end up in Montreal, Canada. Following Montreal they will then be visiting sites throughout the mid-west. After all this they will travel across the northern U.S. and then return back to Los Angeles to return the vehicle.
The couple, who will start the trip travelling with little one year old Stephanie, told us they expect New York City, Mt. Rushmore, and the National Parks to be highlights of the vacation. Eleanor, 10, and Jacqi, 8, will soon join mom, dad, and little sister in Las Vegas.
This is the family's first RV rental trip and they are excited to explore the possibilities. David, who spends a great deal of time sailing and is used to the tight quarters involved, said he thinks the family will enjoy spending time together and appreciate that the vehicle doesn't rock while its stationary.
The couple pointed to the favorable exchange rate between U.S. and Australian currencies as one of the primary motivators in their decision to make the trip at this time. "It is much less expensive than it used to be." Said Kirsten.
"Normally when we come to the U.S. we fly from city to city or drive around," said David, when discussing the trip. "We wanted to experience as much of America as possible."
When asked what recommendations they had for others that might want to plan a similar trip, Kirsten replied, "Allow sufficient time for proper planning and preparation. You should give yourself at least 3-4 months to plan your route, camp sites, destinations, etc."
About El Monte RV
Headquartered in Los Angeles, El Monte RV is one of America's leading motorhome rental and sales companies, catering to both international and domestic travelers. The company has experienced rapid growth throughout the United States, thanks to its reputation for exceptional customer service. For more information about El Monte RV, contact 800-337-2141 or visit http://www.elmonterv.com.
# # #