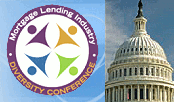 Don't miss the opportunity to discuss the expected impact of recent financial reform legislation and regulatory proposals.
Washington, DC (PRWEB) May 11, 2011
The Lending Industry Diversity Conference(LIDC) and its sponsors are excited to announce the 6th annual Strategic Markets and Diversity Conference to be held in the Washington, DC area on June 22-24, 2011 at the Westin Arlington Gateway, Arlington, Virginia. This is a one-of-a-kind forum for candid discussions of the interplay of workforce diversity, multicultural loan marketing, mortgage underwriting, responsible lending, and lending strategies designed to positively influence economically or racially diverse homeownership outcomes.
Conference sponsors include ComplianceTech, Bank of America, Wells Fargo, Saxon Mortgage, Fannie Mae, JP Morgan Chase, Genworth Mortgage Insurance, Hope LoanPort and Vendor Resource Management (VRM). Attendees come from a wide range of stakeholders including lenders/servicers, regulators, enforcement agencies, realtors, academia, government contractors, civil rights groups and community based organizations.
This year's conference will focus on the recent financial reform legislation and related regulatory proposals and the expected mortgage impact on communities of color. There will be presentations by senior officials from the Consumer Financial Protection Bureau, U.S. Department of Justice, Fannie Mae, HUD, FDIC, and other regulators, as well as speakers from prominent community based organizations. Sessions will begin on the afternoon of June 22nd at 3:00 pm, with a pre-conference workshop on Data Driven Solutions for Strategic and Responsible Lending. In this two-hour session led by ComplianceTech and RealtyTrac®, the presenters will discuss the future direction of mortgage lending opportunities and how to improve strategic and responsible lending through data analytics.
On Thursday June 23rd the day's events will kick off with an address from David H. Stevens, the new President and Chieft Executive Office of the Mortgage Bankers' Association of America. Throughout the day a broad cross-section of issues will be discussed including employer/supplier diversity, the proposed Qualified Residential Mortgage proposal and other supply side impediments to strategic and responsible lending. There will also be a special keynote address at the Diversity Luncheon followed by a brief awards ceremony. A senior official from the U.S. Census Bureau and mortgage industry researchers will discuss the potential impact of demographic and various industry changes on strategic and responsible lending. Later, a keynote address at will be given by Beryl Satter, Rutgers University history professor and author of "Family Properties: Race, Real Estate, and the Exploitation of Black Urban America."
The schedule at a glance is as follows:
June 22, 2011
3:00 pm -5:00 pm: Pre-Conference Workshop: Data Driven Solutions for Strategic and Responsible Lending
5:00 -7:00 pm Opening Reception
June 23, 2011
9:00 am – 10:15 am General Session I: The State of the Industry: Diversity & Section 342 of Dodd-Frank
10:30 am - 11:45 am: General Session II: Qualified Residential Mortgage (QRM) proposal and other Supply Side Impediments to furthering Strategic and Multi-Cultural Lending Activities
12:00pm – 1:45pm: Diversity Luncheon w/ Guest Speaker, Diversity Awards Ceremony
*Session A: 2:00 pm – 3:00 pm: The 2010 Census: The Impact of Demographic Changes & Industry Statistics on Strategic and Responsible Lending
*Session B: 2:00 pm – 3:00 pm: Fair Servicing Analysis and Standards
3:15 pm - 4:30 pm: General Session III: Life after HAMP
4:30 pm-5:15 pm: General Session IV: Beryl Satter, Author of Family Properties: Race, Real Estate, and the Exploitation of Black Urban America
5:15 pm - 7:30 pm Diversity Reception
June 24, 2011
9:00 am - 9:30 am: General Session V: Keynote Address: Consumer Financial Protection Bureau
9:30 am - 10:30 am: General Session VI: How the New Regulatory Perspectives on Consumer Protection and Lender Behavior
10:45 am - 12:30 pm: General Session VII: Debate on National Homeownership policy: Impact on Affordable Housing & Minority Populations
The conference is hosted by the Lending Industry Diversity Conference Inc. (LIDC). The LIDC is a not-for-profit District of Columbia-based corporation organized to promote the business case for diversity in the lending community as a means to expand access to mortgage credit and increased homeownership rates for diverse households.
# # #