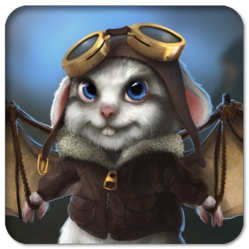 It was important our lead character discover being different is what makes us special
Atlanta, GA (PRWEB) May 03, 2011
Undoda, LLC is proud to announce the release of their first iOS app, Undoda and the Mind's Eye, for the iPad, iPhone and iPod touch. An original tale full of adorable, new characters exclusive to the Apple App Store, Undoda adds a new twist to the popular children's storybook category by integrating three 'multimind' learning games designed to improve kid's spelling, reading and abstract thinking abilities. Developed using the company's propriety multi-sensory learning comprehension methods, Undoda teaches children ages 4-10 to:

Spell, read and use foundational words in a sentence
Match letters, images and symbols on a multi-dimensional plane
Solve time-based puzzles through abstract thinking and memorization
The idea behind multimind gaming came from a chance encounter between three entrepreneurs at Georgia Tech's FutureMedia conference. Bill Allen, the inventor of The Learning to Read Program which helps dyslexic children visualize abstract words for improved reading comprehension, attended the invent looking for new ways to bring his multi-sensory teaching to digital learners. Allen ran across Randy Arrowood and Heath Wilkes, two members of Atlanta's emerging tech startup scene, and their conversation soon turned to bridging the gap between entertainment and educational video games. The trio kept in touch brainstorming ways to make learning games more fun, which eventually led to the invention of multimind games and the creation of a heroic, flying chinchilla who sees the world in reverse.
"It was important our lead character discover being different is what makes us special," said co-founder Bill Allen. "Undoda seeing the world in reverse is not only a proxy for dyslexia, but for anything that makes a child feel like an outcast. Celebrating our differences and restoring self-esteem have always been critical factors to my teaching program, and I'm happy Undoda sends such a positive message to all children."
A fun-filled app parents will appreciate and support, Undoda takes full advantage of Apple's touchscreen and built-in accelerometer to more closely connect kids with the story's adventure. Children actually take control of Undoda between chapters versus just reading about him passively. The sense of immersion obtainable with Apple's iOS platform has revolutionized children's storybooks, and Undoda continues to move the path forward without losing sight of what makes a lasting children's story.
"Technology is not a replacement, but an enhancement for good storytelling and design," said co-founder Heath Wilkes. "The success of great storytellers like Pixar prove the basics still matter most. To that, I'm elated our original story and illustrated artwork is proving to be instantly memorable for both children and parents alike. Our goal is simple: to create a fantasy world where people look forward to spending time with Undoda and his pals. It's all about igniting a child's imagination. If you do that, kids will take control of the rest."
App Features:

Original story with audio narration by a professional storyteller
27 beautiful storybook illustrations to fuel the imagination
3 different learning games with 25 fun levels to play
59 words and the upper and lower case alphabet
Universal app for iPhone, iPad and iPod touch
Device Requirements:

iPhone, iPod touch, and/or iPad
Requires iOS 4.0 or later
114 MB
Pricing and Availability:
Undoda and the Mind's Eye 1.1 is only $1.99 USD (or equivalent amount in other currencies) and available worldwide exclusively through the App Store in the Books category.
Undoda and the Mind's Eye
Purchase and Download
YouTube Video
App Trailer (m4v)
Screenshots
App Icon
Undoda, LLC is an independent children's digital books publisher and iOS developer based in Atlanta, Georgia. The company was founded in 2010 with a worthy mission to improve young children's spelling, reading and abstract thinking abilities by making educational apps more fun to play. Undoda is an original, ongoing adventure both children and parents will enjoy. Copyright (C) 2011 Undoda, LLC. All Rights Reserved. Apple, the Apple logo, iPhone, iPod and iPad are registered trademarks of Apple Inc. in the U.S. and/or other countries.
# # #