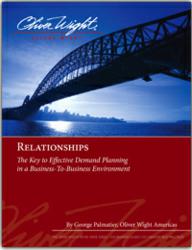 "Sales needs to represent the company to the customer and the customer to the company." - George Palmatier
New London, NH (PRWEB) May 03, 2011
Oliver Wight Americas, Inc., the global business consulting firm that developed Sales and Operations Planning/Integrated Business Planning (S&OP/IBP), has released its newest white paper, "Relationships - The Key to Effective Demand Planning in a Business-To-Business Environment", by George Palmatier. Mr. Palmatier is a principal and board member with Oliver Wight Americas, Inc. Throughout the white paper, he describes the role of sales account managers in developing collaborative relationships with key customers and the benefits of such relationships. George emphasizes that, "sales needs to represent the company to the customer and the customer to the company." The goal of this white paper is for the reader to learn how to develop strong relationships in the business-to-business environment. Read this Demand Planning white paper now.
George is a recognized leader working with clients to formalize and integrate their strategic plans into an integrated business management process, Integrated Business Planning (IBP) ensuring alignment and synchronization of the entire enterprise in pursuit of company goals and objectives. He helps companies integrate their internal processes with trading partners in Integrated Supply Chain Management. George has co-authored many important business texts on Sales, Marketing, Sales and Operations Planning (S&OP), and Demand Management.
About Oliver Wight Americas Inc.
Oliver Wight Americas, Inc. has been both a thought leader and hands-on practitioner for over 40 years. As a global business management consulting and education firm, the company specializes in helping organizations work smarter, faster, and better than their competitors. Its principals are seasoned professionals who have real-world manufacturing experience and transfer this knowledge throughout an organization, providing tools to help organizations internalize that knowledge and achieve a competitive advantage in the marketplace. The largest world-wide consultancy of its type, Oliver Wight has offices throughout Europe, North and South America, and the Asia/Pacific Region. For more information, please visit http://www.OliverWight-Americas.com.
###