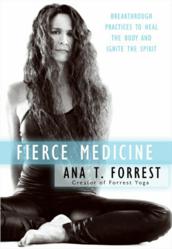 Through the lens of her own harrowing story, Forrest distills and shares her wisdom and experience with a yoga practice anyone can do.
San Francisco, CA (PRWEB) May 02, 2011
An internationally recognized pioneer in emotional and physical healing, Ana Forrest has been transforming people's lives for more than forty years. But her life wasn't always full of strength and purpose. In fact, as a young girl Ana Forrest raided her parents' liquor cabinet, smoked cigarettes, toked weed, and popped pills. These extreme measures were Forrest's attempt to calm the raging storms within her body: paralysis, epilepsy, bulimia, and inflicted physical and sexual abuse.
At the age of fourteen, Forrest attended her first yoga class as a dare; the practice hooked her immediately. Now the internationally acclaimed founder of Forrest Yoga brings her transformative techniques off the mat and into daily life in Fierce Medicine: Breakthrough Practices to Heal the Body and Ignite the Spirit (HarperOne; May 2011; Hardcover; $25.99).
Through the lens of her own harrowing story, Forrest distills and shares her wisdom and experience with a yoga practice anyone can do. Forrest teaches people to "stalk fear," "walk free of pain," and learn the art of "truth speaking" through her highly developed understanding of the human body and psyche, eastern wisdom, and Native American practices. This pioneering style dismantles the emotional and mental blocks that dictate and limit people's lives, creating a powerful way to move through past grievances and hurt. Whether battling an addiction, eating disorder, injury, or chronic pain, readers will reconnect with their bodies, cultivate balance, speak and act with compassion and honesty, and learn to live in wholeness and health.
Having freed herself from the bondage of trauma, Forrest works with everyone from celebrities to active military personnel to "clear through the stuff that hardens them and sickens their bodies so they can walk freely and lightly in a healing way." Whether you have never done yoga or are a seasoned practitioner, Forrest will help you uncover your own warrior's heart. With this wise woman as your trusted guide, you, too, can become centered, strong, and more alive than ever before.
About the Author:
Ana Forrest is an internationally recognized pioneer in yoga and emotional healing. In her search to become a better healer and teacher, she studied Native American medicine and ceremony, Homeopathy, Hands-On Healing, Martial Arts, Psychotherapy, and Regression Therapy. Ana is a well-known contributing expert to Yoga Journal and other national wellness publications. She has journeyed to India, Nepal, Costa Rica, Canada, Japan, Mexico, and throughout Europe and the United States and currently teaches internationally at yoga conferences, workshops, and teacher trainings. Ana is on the board of Advisors for the Foundation for Athletic Research & Education (F.A.R.E. Play) and is an instructor for continuing education at the University of Bridgeport College of Chiropractic. She lives on Orcas Island, Washington.
Praise for Fierce Medicine:
"Fierce Medicine is a brave, confronting, and unapologetically honest book that leads us to see into the depths of our soul and know that transformation is possible. Through stories and techniques Ana Forrest teaches us how to reclaim our bodies, expand our perceptions, and embrace the complexity of our spirit. As a teacher, this is a book that I would certainly share with my students, but as a student myself, there is much in this book that will aid in my own growth and for that I am grateful. I highly recommend this book to all seekers on the path."
— Seane Corn, internationally acclaimed yoga teacher and founder of "Off the Mat, Into the World"
"Fierce Medicine is much more than just another yoga book. It's the "crazy wisdom" and riveting life story of an in-your-face, stir-it-up kind of teacher. Ana Forrest also happens to be an amazing healer, one who regularly guides her students into personal transformations and deep healing. What she asks may not be easy, but few things this good are."
— Timothy McCall, MD, Medical Editor, Yoga Journal, author of Yoga as Medicine
"Fierce Medicine is a journey from the wounded to the healed soul using the grace and elegance of yoga as a guide. Only a master teacher like Ana Forrest, renowned for her ferocious determination, could accomplish such a rigorous task. Ana Forrest has given us all the best of herself in this book."
— Caroline Myss, author of Anatomy of the Spirit and Defying Gravity
"Ana Forrest is a phenomenon: Her breathtaking yogic abilities and extraordinary, passionate teaching inspire and challenge people to go continually deeper. Ana's unique journey of triumph over adversities leads people to find strength from within."
— Joel Kramer and Diana Alstad, coauthors of The Passionate Mind Revisited and
The Guru Papers
Fierce Medicine: Breakthrough Practices to Heal the Body and Ignite the Spirit
By Ana T. Forrest
HarperOne, and Imprint of HarperCollinsPublishers
May 2011│Hardcover│$25.99│ISBN: 9780061864247
###