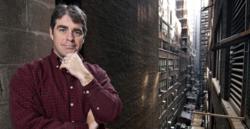 "Given the growing scale and complexity of our partnerships, our team will benefit from the wealth of enterprise experience Tom brings." Michael Hussey, CEO, PeekYou
New York, NY (PRWEB) May 03, 2011
PeekYou, the search company that is re-indexing the public web around people's identities, today announced industry pro Thomas Lynch as its Chief Financial Officer.
"We welcome Tom at an exciting time for us. His joining of our team crowns the company's graduation from a startup to an enterprise," said PeekYou CEO, Michael Hussey. "Given the growing scale and complexity of our partnerships, our team will benefit from the wealth of enterprise experience Tom brings."
An MBA from Georgetown University, Lynch served in a variety of capacities at AOL before joining PeekYou, most notably with AOL's Finance and Marketing organizations. Lynch completed his tenure at AOL with the AOL Mail product team, where he led various product development and marketing initiatives aimed at improving the user experience.
"I am excited to join such a talented and motivated team. PeekYou's technology is driving some of the most interesting developments on the Internet. The company is growing fast and this is the perfect time for me to come in and help take the company to the next level," Lynch said.
About PeekYou
PeekYou is a search company that is re-indexing the public web around people's identities, and redefining what it means to look someone up online. Rather than matching together mutually relevant URLs and keywords, as Google does, PeekYou matches any given URL to the identity of the person who created it, or whom it is about. To date, PeekYou has identified over 250 million people as the authors of over 3 billion public URLs. Over 6 million unique visitors use PeekYou's people search engine every month. As of May 2nd, 2011, http://www.peekyou.com was ranked the 439th largest website in the U.S., according to Quantcast.
###