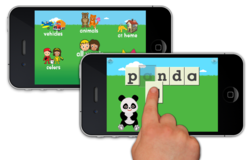 The accomplishments of Learning Touch are multifaceted. Their apps are not only aiding children in their journey to becoming confident readers, but also gently introducing our increasingly electronic world to a new generation.
Boston, MA (PRWEB) May 03, 2011
Learning Touch, http://www.learningtouch.com, developer of bestselling iOS educational apps for preschool-age children, today reported that over one million copies of its FirstWords series of learning-to-read apps have been downloaded from the iTunes App Store.
To celebrate this milestone, Learning Touch has teamed up with leading educational and kids app review blogs to give away 100 free copies of FirstWords. Select promotional partners include Digital Storytime, Fun Educational Apps, The Greasy Screen, Squidalicious and Teachers With Apps.
In addition, Learning Touch will be placing all editions of First Words on sale for $.99 cents for 24-hours only on Wednesday, May 4th.
"Today, we are thrilled to reach the one million download mark with FirstWords," says Andrew Shalit of Learning Touch, "we couldn't have achieved this milestone without the involvement of parents and educators, so this celebration is our way of saying thank you."
Learning Touch's mission is to create apps for young children that are both fun and educational. To this end they recently added phonics to FirstWords. Phonics replaces the names of letters of the alphabet with the sounds those letters make.
"Using new digital resources, like FirstWords apps along with traditional teaching methods, can be a great way to complement your child's early learning experiences," says Carisa Cluver, founder of Digital-Storytime.com
FirstWords is available in several editions, including FirstWords: Animals and FirstWords: Deluxe. It is also available in Spanish, German, French, and Japanese editions.
"The accomplishments of Learning Touch are multifaceted," said Crystal Mack, founder and editor of The Greasy Screen. "Not only are their apps aiding young children in their journey to becoming confident readers, but they also gently introduce our increasingly electronic world to a new generation."
FirstWords has also been praised by members of the special needs community. "The FirstWords apps really let my son Leo shine," says Shannon Des Roches Rosa, co-founder and editor of The Thinking Person's Guide to Autism. "The apps are fun and easy, so Leo is motivated to read and spell, while the straightforward interface makes his learning error-free. They are ideal apps for a kid like my son, who has autism and learning challenges."
Learning Touch and its promotional partners will be giving away 100 free copies of FirstWords Apps throughout the day of the celebration on May 4th. For updates to the list of blogs hosting giveaways, follow @LearningTouch on Twitter, visit the Facebook fan page at facebook.com/learningtouch or search under the hashtag #FirstWordsparty
About Learning Touch
Founded in 2008, Learning Touch creates fun educational apps for young children. All Learning Touch apps are toddler-tested and approved, with a user-interface designed specifically for the littlest of fingers. More than games, each app is designed as a sophisticated learning tool that engages young children, encourages exploration and helps them begin building a deep understanding of the relationships between letter and words.
Learning Touch apps run on the iPhone, iPod Touch and iPad and are available in the iTunes App Store at http://itunes.apple.com/us/artist/learning-touch/id294536450
About Digital Storytime
Digital-Storytime.com is dedicated to reviewing children's book apps, primarily for the iPad. The site also promotes educational apps for kids on a handpicked daily deal page.
About Fun Educational Apps
UK-based Fun Educational Apps tests a large selection of educational and game apps, including book apps, math apps, game apps, travel apps, fun apps and much more.
About the Greasy Screen
The Greasy Screen reviews ebooks and reading apps for children and creates weekly library challenges.
About Squidalicious
Shannon Des Roches Rosa writes about autism, parenting and iPads at Squidalicious.com, as BlogHer.com's contributing editor for parenting kids with special needs, and as a co-founder and editor of The Thinking Person's Guide to Autism. She is one of CafeMom's autism experts, and is also one of Babble.com's Top 25 Autism Bloggers.
About Teachers With Apps
Teachers With Apps is a credible resource for quality educational apps. Teachers With Apps is dedicated to the idea that quality mobile educational apps are the tools of the future and need to be used responsibly.
###