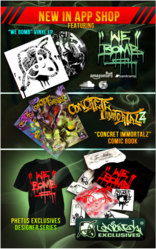 The In-App Store is designed to provide fans with an all-access shop for exclusive Graffiti Spray Can goods.
New York, NY (PRWEB) May 03, 2011
Elite Gudz, creative leaders in designing content for multi-media mobile, tablet and personal-use consoles and the masterminds behind the hugely popular Graffiti Spray Can application, today announced the new In-App Store for the upcoming launch of Graffiti Spray Can 2. Officially available on May 24, 2011, the app will feature a variety of upgrades, including a new music player, new background choices and more creative graffiti options. The introduction of the In-App Store will feature an assortment of Graffiti-related products, including the hip-hop single "We Bomb," a vast selection of Graffiti Spray Can apparel, the "Concrete Immotalz" comic book series, the limited edition "Phetus Exclusives" package and the recently announced Artist Packs, an add-on option to enhance the Graffiti Spray Can 2 experience featuring signature fonts, backgrounds and music from well-known street artists.
"Our mission is to bring the best of street art and technology together creatively, in a ways the new generation of fans want to receive it," said Brian Ferrara, creative director for Elite Gudz. "This includes our mobile commerce experience, which is once again going to be ahead of the curve."
The In-App Store is designed to provide fans with an all-access shop for exclusive Graffiti Spray Can goods. The new single "We Bomb" from graffiti artist Phetus, featuring PoeRilla, will be available as a digital download and also as a special edition picture disc vinyl EP. Elite Gudz's "Concrete Immortalz" comic book series, featuring an underground graffiti movement, is already a hit within the street art community and will also be available for download from the In-App Store. The hotly anticipated "Phetus Exclusives" package will include a large-scale metal stencil, t-shirt and vinyl cover skins for mobile devices, also designed by Phetus himself. This exclusive package is limited to the sale of only 88 units. Additional merchandise will continuously be added to the In-App store after the initial May 24 launch.
The hugely popular original Graffiti Spray Can application is currently available at the iTunes store. Graffiti Spray Can 2 will be available on iPhone, iPod touch, iPad, Android and Facebook. The new Graffiti Spray Can 2 application is now available free on iPad and will update on May 24 to include all upgraded features, including the artist packs, store and music exclusives. The application will be available free on Facebook and Android. The application will cost $.99 on iPhone and iPod Touch and will include the Phetus artist pack. For more information, visit http://www.graffitispraycan.com.
ABOUT ELITE GUDZ
Elite Gudz is a creative studio founded by artists and creators from the worlds of graffiti, comics, designer toys and technology. Their first mobile application, Graffiti Spray Can, climbed to the #1 spot in Entertainment and Free Applications charts around the world within days of its release. Elite Gudz has since become leaders in designing creative content for mobile, tablet and consoles with designer platform production and new media for mass markets. For more information, please visit http://www.elitegudz.com.
###