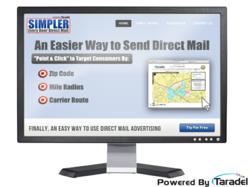 There is no easier or more effective way to deliver a solo mail offer to your target audience.
Richmond, VA (PRWEB) May 04, 2011
Taradel LLC announced today the launch of a new website, EveryDoorDirectMail.com, in support of the popular new simplified mailing program from the USPS. The new website contains high quality content such as direct mail videos, articles, and marketing best practices, along with turnkey direct mail products designed specifically for small business budgets.
Visitors to EveryDoorDirectMail.com can target households and businesses, anywhere in the country, via an innovative "point and click" mapping technology dubbed U-Select. Combined with Taradel's affordable graphic design and flyer printing rates, small business owners can design, print, and mail giant full-color glossy flyers for as low as $0.29 per home, including postage.
Before the USPS offered Every Door Direct Mail, coordinating a direct mail marketing campaign was considered a difficult process. In those days, selecting and purchasing a mailing list, plus registering for mailing permits, and paying fees for ink-jetting and tabbing, was outside the realm of possibilities for many small businesses. With Every Door Direct Mail, even the smallest "Mom and Pop" businesses have access to the same marketing strategies used by national retailers.
"We have removed the traditional hassles of the direct mail process by developing superior technologies that simultaneously reduce costs," remarked Chris Barr, director of marketing for Taradel. "There is no easier or more effective way to deliver a solo mail offer to your target audience. As a result, the early response has been tremendous"
Earlier adapters to the program include pizza restaurants, medical practices, realtors, and general contractors, industries that rely heavily on print advertising.
"Our mailers bring in more than seven times what they cost us to produce," said one pizza shop owner in Cincinnati, OH. "We have a 25% net increase in sales over the previous year as a result."
To learn more about Every Door Direct Mail and affordable small business marketing solutions, visit http://www.EveryDoorDirectMail.com
About Taradel LLC:
Taradel LLC, a Richmond Virginia-based company, specializes in providing web-to-print solutions for flyer printing, menu printing, and a variety of small business marketing collateral. The company has been honored as a member of the Inc. 5000 for three consecutive years. Learn more at http://www.Taradel.com today.
###