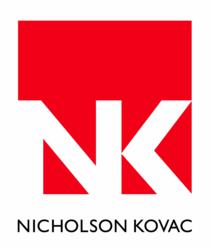 My excitement could not be greater. Nicholson Kovac has had a proud past of accomplishment and these changes should electrify our future.
Kansas City, MO (PRWEB) May 04, 2011
F. Peter Kovac, co-founder of Nicholson Kovac, Inc., today announced the marketing communications firm's plans for the future.
"The centerpiece for the new Nicholson Kovac will be a new senior leadership team," Kovac said.
Jim Mannebach, a former NK client, and Joe Asfour, his associate, joined the company May 2, and will serve as managing partners. Kovac, whose role as CEO changes to managing partner, will now focus on client relationship building and business development.
"I'm very pleased to announce the addition of Jim and Joe as I begin planning for retirement," Kovac said. "It has always been our desire to keep the NK brand energized and aggressive. These gentlemen are not just capable, they are as committed to our long-term growth as I am. Their enthusiasm for the agency's proprietary strategic planning process, along with their energy, adds up to a bright and progressive future for us."
Mannebach will serve as the executive officer focusing on internal operations and administration.
"Mannebach is well prepared to be a 'best in breed' leader in this role," Kovac said. "He has been a Nicholson Kovac client twice over the past 15 years, when he was CEO of Emerson Electric's Micro Motion and when he became Global CEO of Norgren, Inc., a United Kingdom-based engineering and manufacturing entity."
Asfour has had a similar relationship with both Mannebach and Kovac. He will be joining Nicholson Kovac after a five-year role at DCI Marketing, a Milwaukee, Wis., based full-service marketing firm, where he served as President and CEO. At DCI Marketing, Asfour served many global brands and retailers like General Motors, Hyundai, Harley-Davidson, Microsoft, Dell, ATT, Scion, Nissan/Infiniti, Fisher Price/Mattel, Leap Frog, Subaru, Walgreens, and many others. As CEO, he drove DCIM's major digital media initiative, launched a 3D virtual laboratory, refined owner loyalty programs and other key efforts designed to better align brand owners, retailers, and consumers.
Prior to DCIM, Asfour worked with Mannebach at Norgren Inc., where he led the Americas' commercial activities and the global sector's key account managers. Asfour also spent 23 years as a key supplier partner to the QSR and fast food industries, working closely with McDonald's, YUM! Brands, Burger King, Wendy's and others. Asfour's focus will be new client acquisition, as well as management of NK's account service team, and creative and research functions.
Kovac also announced that John "Nick" Nicholson, a recently retired co-founder of NK, plans to return and join the new team on an "as needed" basis.
"My excitement could not be greater," Kovac said. "NK has had a proud past of accomplishment and these changes should electrify our future."
All other agency management members will continue in their current roles to accelerate NK's future. The agency's name will remain Nicholson Kovac, Inc., and its headquarters will stay in Kansas City, Mo.
About Nicholson Kovac, Inc.
Nicholson Kovac, Inc., an integrated marketing communications company, is counted among the top independent advertising agencies in the country and serves national and global brands. At the heart of Nicholson Kovac's work is Relevant IngenuitySM a proprietary process of discovering the relevant issues long before the search for creative solutions begins. The result is smarter, more efficient communications that deliver measurable results for clients. For additional details, visit http://www.nicholsonkovac.com or follow us on Twitter at http://twitter.com/nicholsonkovac.
# # #