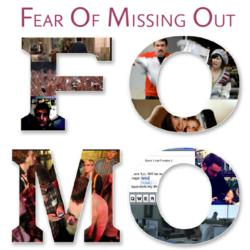 FOMO may be a social angst that's always existed, but it's going into overdrive thanks to real-time digital updates and to our constant companion, the smartphone
New York, NY (PRWEB) May 04, 2011
In its May trend report, JWT, the world's best-known marketing communications brand, explores the phenomenon of FOMO (Fear Of Missing Out), the uneasy and sometimes all-consuming feeling that you're missing out—that your peers are doing, in the know about or in possession of more or something better than you.
"FOMO may be a social angst that's always existed, but it's going into overdrive thanks to real-time digital updates and to our constant companion, the smartphone," says Ann Mack, director of trendspotting at JWT. "As social media makes people aware of things to which they otherwise might not have been privy, it can spark a sense of vicarious participation or motivate real-world behavior. Conversely, it can be a curse, fostering anxiety and feelings of inadequacy."
The report identifies which cohort is most prone to FOMO and how they respond to it, spotlights how FOMO is manifesting in the zeitgeist, and looks at the wide-ranging potential for brands seeking to tap into FOMO.
JWT's trend reports are the result of quantitative, qualitative and desk research conducted by JWTIntelligence throughout the year. Specifically for this report, JWTIntelligence interviewed experts and influencers in technology and academia, and conducted a quantitative survey in the U.S. and the U.K. The survey used SONAR™, JWT's proprietary online tool, to poll 1,024 adults aged 18-plus and 87 teens aged 13-17 from March 4-15, 2011.
Findings from the survey include:

The Millennial Generation is most affected by FOMO: As many as 72% of young adults (aged 18-33) in the U.S. and U.K. said they could completely or somewhat relate to FOMO, with 4 in 10 saying they experience it often or sometimes. A majority of teens could also relate to the concept (56%), with about a quarter of them saying they experience FOMO often or sometimes. Young adults and teens expressed feelings of missing out more than any other generation when seeing via social media that their friends are doing something they're not, buying something they're not or finding out something before they do.
Millennials are aware that social media is FOMO-inducing: In the U.K., 63% of young adults agreed that it's easy to feel left out on a site like Facebook, and 61% said social media has amplified any fear of missing out they might have. In the U.S., around half said the same about both. Among teens specifically, British and American respondents expressed similar sentiments, with 64% saying it's easy to feel left out on a site like Facebook and 60% saying social media has amplified their FOMO.
Men (especially American men) are more prone to feelings of missing out via social media: 45% of our male respondents said they feel somewhat or very left out when they see via social media that their peers are doing something they're not, compared with 29% of women. The FOMO skew is most pronounced in the U.S., where more men than women relate to FOMO: 51% vs. 40%.
"Fear of Missing Out" is available on JWTIntelligence.com. Additional knowledge and research on JWTIntelligence.com includes JWT's Social Media Checklist, our recent Transmedia Rising and Re-Booting Travel trend reports, 10 Trends for 2011 and 100 Things to Watch in 2011.
About JWT
JWT is the world's best-known marketing communications brand. Headquartered in New York, JWT is a true global network with more than 200 offices in over 90 countries employing nearly 10,000 marketing professionals.
JWT consistently ranks among the top agency networks in the world and continues its dominant presence in the industry by staying on the leading edge—from producing the first-ever TV commercial in 1939 to developing award-winning branded content for brands such as Freixenet, Ford and HSBC.
JWT's pioneering spirit enables the agency to forge deep relationships with clients including Bayer, Bloomberg, Cadbury, Diageo, DTC, Ford, HSBC, Johnson & Johnson, Kellogg's, Kimberly-Clark, Kraft, Microsoft, Nestlé, Nokia, Rolex, Royal Caribbean, Schick, Shell, Unilever, Vodafone and many others. JWT's parent company is WPP (NASDAQ: WPPGY).
###