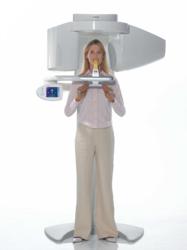 We're proud to offer the Merrimack Valley's first 3-D scanning technology for dental implant treatment.
Tewksbury, MA (PRWEB) May 06, 2011
Aging Americans are embracing dental implants as an alternative to bridgework and dentures at unprecedented rates. According to the American Dental Association, 5.5 million patients requested dental implants in the U.S. in 2006, and that number has continued to grow with projections of almost 10% increases in the coming five years.
"Today dental implants are the ideal alternative to other kinds of bridge and denture work and the key to successful dental implant treatment is detailed planning," explained Dr. James Wu, founding surgeon at Advanced Surgical Associates in Tewksbury, MA. "To that end, we are the first oral surgeons in the Merrimack Valley to employ advanced 3-D digital scanning for pre-surgical treatment planning. The 3-D or CBCT (cone beam CT) scanner now at our office provides us with the most complete anatomical information about a patient's mouth, face and jaw areas and allows for pre-surgical virtual surgery. From this, we can create surgical guide plates that result in the most precise placement of implants. Our use of digital technology with the 3-D scanner, as well as our 2-D scanner, limits the amount of radiation exposure for patients, in most cases much less than that of a full mouth set of x-rays."
According to Dr. Wu, an assistant clinical professor at Boston University School of Dental Medicine and staff surgeon at Boston Medical Center, this new 3-D scanner has provided a paradigm shift in measuring and assessing a patient's anatomy thereby shortening surgical time and reducing post-operative discomfort and swelling.
"The 3-D technology may even indicate that teeth can be placed on the implants on the same day as surgery," he said. "Our goal is to minimize the time our patients have to be at our office, reduce their number of trips and speed up their return to their dentists to have the final teeth inserted. This is a very exciting tool to help us do just that."
According to a March 2011 article in the world's most trusted dental newspaper, Dental News, recent clinical studies and case reports indicate that CBCT 3-D technology is becoming the most reliable tool in dental implant dentistry.
For more information on dental implants, speak with your dentist or request a consultation at Advanced Surgical Associates by calling 978-851-5200. Visit Advanced Surgical Associates on line to see a dental implant video presentation at http:// http://www.advancedsurgicalassoc.com.
###