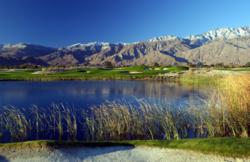 (PRWEB) May 06, 2011
Warrior Golf is proud to announce the addition of the Cimarron Golf Resort to its growing portfolio of golf course properties. Purchased through the affiliated company Warrior Golf Equities, LLC which is managed by Brendan Flaherty who is the founder and CEO of Warrior Custom Golf, Inc.
The Cimarron Golf Resort features two separate 18 hole layouts; The Boulder, A full length par 71 course and the Pebble, an executive par 55 course. There is a grass driving range, putting green and the carts are highly equipped with state of the art GPS.
Additionally, the property features The Rocks Restaurant; an acclaimed full service breakfast, lunch, dinner, and special event host. The large outdoor patio allows for spectacular views of the snowcapped mountains.
Located in the famed Coachella Valley adjacent to Palm Springs, Cimarron enjoys seasonal play from vacationing golfers worldwide.
Warrior has engaged the services of the Synergy Golf Group to professionally manage the property and maintain the renowned service and condition that has made it a Mecca for golf enthusiasts.
About Warrior Custom Golf
Warrior Custom Golf, Inc. was established for the singular purpose of developing, manufacturing and marketing custom golf clubs for golfers worldwide. They are dedicated to the continual development of affordable state-of-the-art custom golf products.
Warrior produces many more club sets in a given week than some of the most "famous brands" with one distinct difference – every one of their clubs is custom built to the exact specifications of each customer.
As a result, Warrior has surpassed $200 million in sales with over 500,000 satisfied customers and is one of the fastest growing golf companies in the nation. Warrior's corporate headquarters is located in Irvine, California where its 30,000 sq. ft. manufacturing facility employs over 200 individuals year-round. Building Warrior golf clubs on-site makes the latest technology available to their customers at the lowest price possible. The quality of their products, affordable pricing and their 100% satisfaction guarantee policy all contribute to Warrior's continued success. Also every year Warrior donates to thousands of charity golf events nationwide to help raise money for worthy causes.
For more information on Warrior Custom Golf you can contact them at (800) 574-9790 or visit their website http://www.warriorcustomgolf.com.
About Synergy Golf Partners
Synergy Golf Partners LLC was formed in May, 2003 specifically to purchase, reposition, re-develop, and manage golf courses and golf related real estate throughout the United States. Synergy has identified the substantial gap between the number of rounds available at existing golf facilities and the actual number of golf rounds being played (the over-supply of golf courses), with the rounds played declining each year for the last five years. In addition, Synergy was created to address the shortage of available capital for the purchase golf facilities.
SynergyGolf Partners has capitalized upon a unique market-timing investment in golf. Synergy believes that the current market valuation for golf courses relative to their real estate opportunities is very attractive. Because of this we have assembled a partnership of industry experts in the field of golf operations, entitlements, financing, and development.
Synergy Golf Partners is committed to creating "Sensitive and Sensible" redevelopment of existing golf facilities; redevelopment that can be embraced by government agencies, the public, and the golf community, with advantages to all constituencies. Synergy incorporates a fresh style of value-added redevelopment and management that provides "Creative Solutions to Difficult Situations."
To learn more visit their website http://www.synergygolfpartners.com.
# # #